by A Series of 3rd Grade Events
3rd – 5th Grade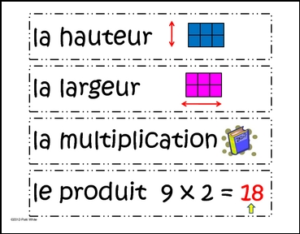 My Math Vocabulary freebie is now translated into French thanks to a fellow teacher named Veronica Doyle. She contacted me and asked if she could help me translate the math vocabulary into French so her students could benefit from it as well as others.
This set of French Math Word Wall Words includes words with visual presentations for addition, subtraction, place value, multiplication, division, perimeter, area, fractions, and decimals. It is primarily for 4th and 5th grade, but most words could be used for 3rd grade as well. It also includes an extra page of words that Veronica felt were important.
Enjoy!
Patti 🙂
https://www.teacherspayteachers.com/Product/French-Version-of-Math-Vocabulary-Freebie-226268
Go to http://www.pinterest.com/TheBestofTPT/ for even more free products!