by Skool Aid Products
5th – 8th Grade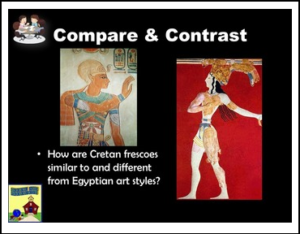 Minoan Frescoes is an excerpt from my presentation of Ancient Greece: The Minoan and Mycenae Civilizations
The Minoan language has yet to be deciphered and the main source of information on them is from their frescoes and artifacts. These frescoes give students an unparalleled opportunity to experience being archaeologists. So I put together a series of Minoan frescoes paired with guiding questions to lead the students on a journey of historic discovery. How do their observations stand up to those of archaeologists and historians? Try the sample in your classroom, the complete Minoan presentation is 173 slides and handouts and explores in depth the entire archaeological discovery by Sir Arthur Evans and new information unearthed since then. Your students will love it, and be highly engaged in this style of learning.

Product format:
PowerPoint Show made in Microsoft 2013
Features include: slide sorter, laser pointer, digital pen, high lighter, and presenter's notes. This makes it possible to add or highlight notes directly onto the slides. It is possible to check out these features on the preview, by right clicking on the screen. A tool box will appear so that you can experiment with the various tools.
Topics:
Minoan Frescoes

Contents:
10 slides
T Chart for predictions
Teaching time:
about 1 class period

*****************************************************************************
How to get TPT credit to use on future purchases:
• Please go to your My Purchases page (you may need to login). Beside each purchase you'll see a Provide Feedback button. Simply click it and you will be taken to a page where you can give a quick rating and leave a short comment for the product. Each time you give feedback, TPT gives you feedback credits that you use to lower the cost of your future purchases. I value your feedback greatly as it helps me determine which products are most valuable for your classroom so I can create more for you. ☺
Do you like this style of teaching? Be the first to know about my new discounts, freebies and product launches:
• Look for the green star next to my store logo and click it to become a follower. Voila! You will now receive email updates about this store. ☺

*****************************************************************************
© 2014 SKOOL AID PRODUCTS. This purchase is for you and your classroom. Duplication for an entire school, an entire school system, or for commercial purposes is strictly forbidden. Please have other teachers purchase their own copy. If you are a school or district interested in purchasing several licenses, please contact me for a district-wide quote.
https://www.teacherspayteachers.com/Product/Ancient-Greece-MINOAN-FRESCOES-1209561
Go to http://www.pinterest.com/TheBestofTPT/ for even more free products!