by Andy Runyan
7th – 12th Grade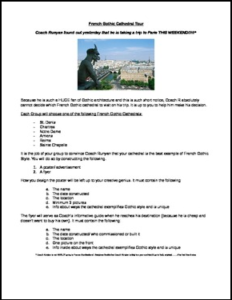 This file is a MS Word document that outlines our French Gothic Cathedral Tour project in AP Art History. I have also used it in World History classes. Students are divided into groups and allowed to select a Gothic Cathedral.
We act as if we are going on a trip to France and each group has to convince the teacher that their building is the one to visit. Lots of fun and kids with an artistic side have a chance to create and show off their talents.
https://www.teacherspayteachers.com/Product/French-Gothic-Cathderal-Tour-Project-506293
Go to http://www.pinterest.com/TheBestofTPT/ for even more free products!