It might be "Christmas in July" but it's "BACK TO SCHOOL" in August!  Here's a photo of my boxwood bushes done up with lights during the past holiday season.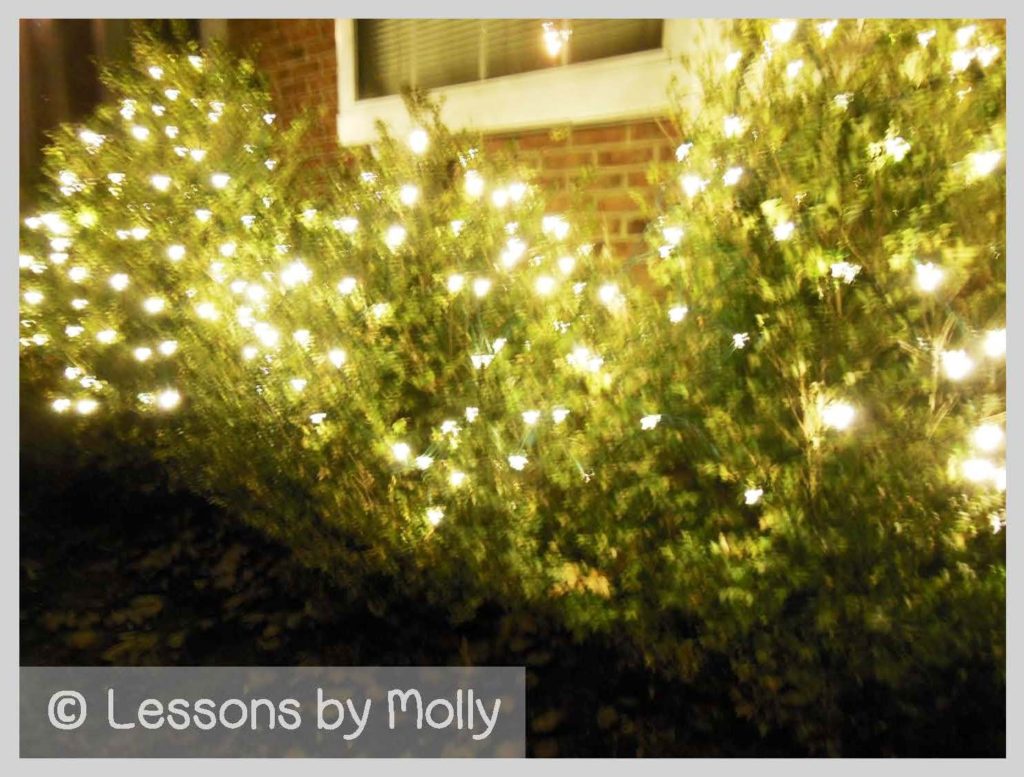 Well, it's not Christmas yet but I do have a FREEBIE for you.  Read on.
I've just finished a GIANT file of numeral and number counting posters.  The posters have mosaic backgrounds.  I purchased these papers from Bev's Learning Hut and I couldn't be more pleased with how beautiful they turned out!  Best of all, mosaic designs have been in existence for a long time and they NEVER go out of style!
There are a total of SEVEN sets of colors in the priced file.  I'm offering one set as a FREEBIE.  (Merry Christmas in July!)  The colors included in the larger file are red, blue, green, pink, orange, purple, and light blue.  You're getting the red set with blue fish!
Each set of posters includes numerals zero through twenty.  There are colorful fish displayed on the posters to match each numeral shown.  The children can practice counting skills by counting the fish on any given poster.  If you display the posters at the children's eye level on your classroom wall, they can practice counting during their spare time.
Each numeral is approximately 7 centimeters tall.  The numeral font that I used is a ideal for modeling correct numeral formation.  The numeral "4" is formed with straight lines.  The line on the numeral "9" is straight so that is does not appear like an upside down "6".
I have created these poster with simplicity in mind so that educators can use them to focus on a few of the related Common Core Math Standards for kindergarten.  Those are:
1.  Writing numerals 0 to 20.
2.  Reading numbers 0 to 20.
3.  Counting up to 20 objects (with numbers 0 to 10 in scattered formation) and naming the corresponding number.
You will need colored ink to print the posters.  I recommend printing them with white cardstock paper.  If you'd like, laminate them for long lasting use.
The slide show below shows some of the posters from the large file.  You might notice that I was able to print without a white edge around my pages.  The mosaic backgrounds are very attractive when there is NO WHITE BORDER.  Plus, printing without the white edge means that you won't spend any time trimming.  I've included a tutorial on how to print without the white border.  You can also view this blog post to see picture directions:  Borderless Printing Tips for Teachers.
Click the FIRST image to view the posters at my Teachers Pay Teachers shop.  Click the SECOND image to get the FREE, 0 to 20 number posters with the red mosaic style.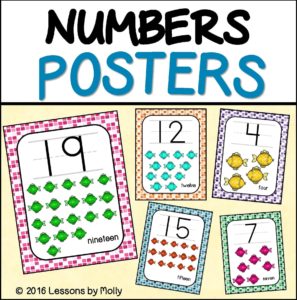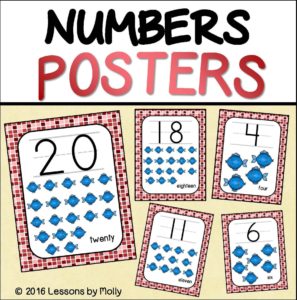 I hope that you are enjoying your summer break!  School will be coming soon!
Copyright 2016 Molly McMahon, Lessons by Molly