by Mercedes Merrell
1st – 3rd Grade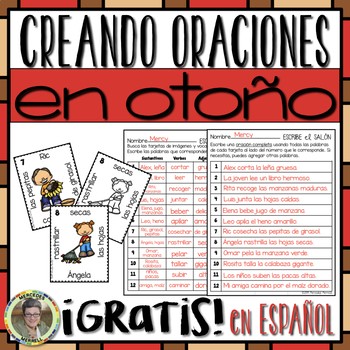 #COVID19WL FREEBIE! ¡GRATIS! Creando Oraciones TARJETAS DE TRABAJO (TASK CARDS) en otoño Grados 1-3 usa 12 tarjetas con imágenes de acciones que incluyen SUSTANTIVOS VERBOS (regulares) ADJETIVOS OTROS y actividades para usar en centros de trabajo, clase entera o individualmente. Tengo este recurso en INGLÉS, , en mi tienda, también!
Encontrarán lo siguiente:
12 tarjetas de acciones de vocabulario con imágenes (sustantivos, verbos, adjetivos) con tema de otoño en colores y blanco y negro
Sugerencias para cómo usar las TARJETAS DE TRABAJO
Sugerencias para cómo usar la actividad 'ESCRIBE el SALÓN'
Lista de SUSTANTIVOS VERBOS ADJETIVOS OTROS para referencia
1 hoja de respuestas para escribir todas la palabras
1 hoja para categorizar las palabras (sustantivos, verbos, y adjetivos)
1 hoja para escribir las oraciones completas
Las tarjetas se pueden usar:
en centros de lectura y trabajo de palabras
como tarjetas de trabajo (task cards)
para 'ESCRIBIR el SALÓN'
con compañero para leer juntos o turnándose
como trabajo independiente ('flash cards')
para organizar en categorías (sustantivos, verbos, adjetivos)
como pistas para formar oraciones orales
como vocabulario cuando estén listos para escribir oraciones
para colorear las tarjetas de blanco y negro y pegarlas en un cuaderno interactivo para usar como referencia
como un DESAFÍO- los estudiantes subrayan los sustantivos- rojos, los verbos-azules, los adjetivos-verdes, y otros-café. después de terminar de escribir sus. oraciones

https://www.teacherspayteachers.com/Product/COVID19WL-FREEBIE-GRATIS-Creando-Oraciones-en-OTONO-en-espanol-4724792
Join The Best of Teacher Entrepreneurs Marketing Cooperative at
https://thebestofteacherentrepreneursmarketingcooperative.net/the-best-of-teacher-entrepreneurs-marketing-cooperative-one-year-membership/
and get THOUSANDS OF PAGE VIEWS for your TpT products!

Victoria Leon's TpT Store
Go to http://www.pinterest.com/TheBestofTPT/ for even more free products!






---