by Real Cool English
4th – 6th Grade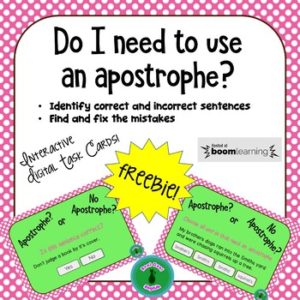 Try using task cards on your computers and mobile devices! Now you can use this set of Apostrophe Use Task Cards in digital format on Boom Learning℠ with your students for free! No printing, cutting, or laminating, just assign the decks to your students and you are ready to go. Students get immediate feedback on their progress and you get a suite of teacher reporting tools. Fun, effective, and easy to use. Perfect for the paperless classroom.
Download this free PDF with a link that will give you access to the cards on Boom Learning! 
*This is my first set of Boom Cards, and I am excited to share them with you! I hope you and your students enjoy them! If you did, I would be very grateful for your feedback ☺
Related Products
⭐ Commonly Confused Words Interactive Digital Task Cards (BOOM Cards)
⭐ Apostrophes with Possessive Nouns Task Cards
⭐ Quotations Task Cards
⭐ Sentence Editing Task Cards
⭐ Vocabulary Skills Review Task Cards
***************************************************************************
More About Boom Learning℠
Boom Cards play on any modern browsers on interactive whiteboards, desktops, laptops, netbooks, Chromebooks, iPads, iPhones, Android tablets and phones, and Kindle-Fire tablets. Boom Cards apps are on The App Store, Google Play, and the Amazon Kindle Fire store. To redeem your Boom Cards, you will create an account for Boom Learning. The account you get with your purchase allows you to play the Boom Cards on interactive whiteboards and with individual students using Fast Play. Fast Play does not save student progress reports.
With your Teachers Pay Teachers purchase, users new to Boom Learning get a three-month free trial of student progress reporting for up to 150 students. Your trial includes the ability to make up to 5 free DIY decks. You may upgrade or cancel at any time. Boom Cards play on modern browsers (released in the last three years) on interactive whiteboards, computers and tablets. Boom Cards apps are also available. Not sure if your browser is modern enough? Try a free Boom Cards deck first. When you redeem your purchase, Boom Learning opens an account for you if you do not already have one. If you do not subscribe at the end of your trial, you will be able to continue using Boom Cards with the Fast Play feature. Fast Play does not track individual progress. If you do not subscribe we will delete your student records 3 months after the expiration of the trial to protect student privacy.
You might also like:
Writing Better Sentences Task Card Bundle
Vocabulary Skills Review Task Cards
Chameleon Sentences: Adding Details to Sentences
***************************************************************************
★★★ Important note to customers! ★★★
If you enjoyed this product, I would be very grateful for your feedback. It's easy and fast! Plus, you will earn credits to use toward future purchases in any TpT store!
If you have any questions, concerns, or suggestions, please post in the question to seller section or email me at the address listed on the downloaded product.
Not sure how to leave feedback?
Please go to your My Purchases page. Next to each purchase you'll see a Provide Feedback button. Simply click it and you will be taken to a page where you can give a quick rating and leave a short comment for the product. Each time you give feedback, TPT gives you feedback credits that you use to lower the cost of your future purchases.
I ♥ followers! click the FOLLOW MElink to get sale alerts, updates and news about future products.
For information on newest products, special sales, and promotions, also follow me on:
Thank you!!
***************************************************************************
https://www.teacherspayteachers.com/Product/Apostrophe-Use-Interactive-Digital-Task-Cards-BOOM-Cards-3215546