by Simply Special Ed
Pre-Kindergarten – 6th Grade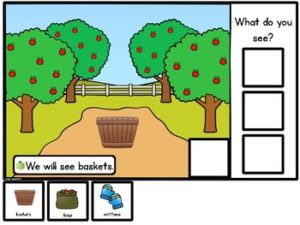 FREE Adapted Book!
A matching component on each page to keep students engaged and interacting with their work. Perfect for special education, early childhood, ELL, homeschool, and speech therapy.
This book also works great for nonverbal learners or students with Autism and other disabilities. Simple pictures encourage vocabulary and communication. Velcro pieces allow them to interact with their work independently
This book can be laminated and put together with velcro. Velcro choices and reuse the book for years to come.
Check out my monthly bundles of adapted books for more books!
https://www.teacherspayteachers.com/Product/Apple-Orchard-Adapted-Book-3408059