by Teaching in the Primary Grades
Kindergarten – 3rd Grade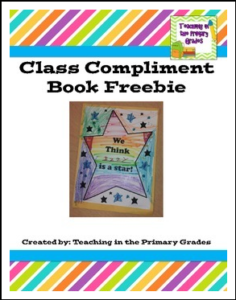 As the school year drew to a close in my classroom, I was looking for a fun way for my students to continue to practice their writing skills while making a fun keepsake they could look back on in years to come and I came up with the idea of a compliment book!
This activity was perfect for my class at the end of the year but, it would also be great for any other time of the year when your class needs some team building.
After the students have finished decorating their books its time to let the fun begin. Each student opens their book to the first blank page and places a pencil next to their book. At my signal, the students slide one chair to the right and write a compliment to their classmate. Students continue moving to the right until they have had the chance to write in each of their classmate's books. Make sure that your students know that more than one person can write a compliment on each page to avoid using tons of paper!
I am so glad I did this with my class. It was so cute to watch the smiles grow on each student's face as they were able to read the sweet compliments the received from each of their classmates.
Follow my page on Facebook to be notified when I post more freebies.
Visit my blog: www.teachingintheprimarygrades.blogspot.com
Go Here to view my other freebies.
Jordan-
Teaching in the Primary Grades
*****************************************************************************
Thank you for your purchase! I love sharing my ideas with my fellow educators.
After you use this product, I would appreciate it if you left feedback to let me know how you liked the product. Remember. Giving feedback allows you to receive Teachers Pay Teachers credits which you can use to save money on future TPT purchases.
Please respect the time and effort I put into this product by not giving it away to others. I am a busy educator just like you. I make products for Teachers Pay Teachers because I believe it is important for educators to share their ideas with others. However, I also believe that all educators should be fairly compensated for their hard work. Your purchase allows you to return to your purchases page at Teachers Pay Teachers to purchase additional licenses at a reduced cost for your colleagues.
© Copyright 2014. Jordan Piacenti. All rights reserved. Permission is granted to copy pages specifically designed for student or teacher use by the original purchaser or licensee. The reproduction of any other part of this product is strictly prohibited. Copying any part of this product and placing it on the Internet in any form (even a personal/classroom website) is strictly forbidden. Doing so makes it possible for an Internet search to make the document available on the Internet, free of charge, and is a violation of the Digital Millennium Copyright Act (DMCA)."