by Tessa Maguire
1st – 3rd Grade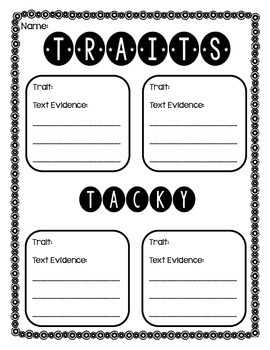 Close Reading pushes students beyond traditional reading comprehension activities, and into thinking not only what the text says, but also how it says it. This Close Reading Companion for Tacky the Penguin by Helen Lester walks you through first, second, and third readings with your students. It includes questions for the second and third readings as you focus on the author's craft and text structure, and into third readings as students go beyond the text to make connections and determine the text's importance.
Each Close Reading Companion includes
•Questions for guided second and third readings
•Graphic organizers for first, second and third readings
•Written response pages
Note: This is my interpretation on close reading with these books. No part of the original text is reprinted in this product.
For more detailed information on how I do close reading, please see this post on my blog.
For other Close Reading resources, check out these other products:
★ Close Reading Graphic Organizers
★ Close Reading Companion: Patricia Polacco
★ Close Reading Companion: Christmas Edition
CLICK HERE to follow me and be notified of future products as soon as they are posted.
_______________________________________________________________
Copyright © Tessa Maguire.
Purchase is for single classroom use only. Please purchase additional licenses if you intend to share this product with colleagues. You may not redistribute, edit, sell, or otherwise post this product on the internet. You may, however, post a link for others to purchase themselves.

https://www.teacherspayteachers.com/Product/Close-Reading-Companion-Tacky-the-Penguin-1469643
Join The Best of Teacher Entrepreneurs Marketing Cooperative at
http://www.thebestofteacherentrepreneursmarketingcooperative.com/2014/01/the-best-of-teacher-entrepreneurs.html
and get THOUSANDS OF PAGE VIEWS for your TpT products!

Victoria Leon's TpT Store
Go to http://www.pinterest.com/TheBestofTPT/ for even more free products!