by Tied 2 Teaching
2nd – 4th Grade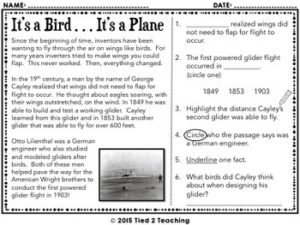 Close Reading Passages
Close Reading (Inventions) is the first of my Reading for Understanding series. I am excited to offer this resource to you at no cost and I hope it will spark curiosity and encourage a love for Reading for Understanding in your classroom.
This resource includes 8 simple reading passages each on the history behind a different interesting invention throughout history. Each of the passage has 6 text-dependent questions asking kids to go back to the text and interact with it in different ways. By driving kids back to the text time and again, it is ensuring that they truly are reading closely and Reading for Understanding.
In addition I have also included 3 versatile graphic organizers for you to use with any reading passage you give your students!
Thank you very much for choosing Tied 2 Teaching and I wish you the very best year yet!
•••••••••••••••••••••••••••••••••••••••••••••••••••••••••••••••••••••••••••••••
QUESTIONS OR COMMENTS?
We welcome all questions or comments! Please feel free to e-mail us at tied2teaching@gmail.com!
•••••••••••••••••••••••••••••••••••••••••••••••••••••••••••••••••••••••••••••••
I LOVE MY FOLLOWERS!
Look for the green star at the top of the page next to my store logo. Click it to become a follower. When you do this, you'll receive customized email updates about Tied 2 Teaching, and information about sales and new products!
WOULD YOU LIKE TO EARN FREE PRODUCTS FROM TIED 2 TEACHING? HERE'S HOW!!!
To earn TPT credits to use on future purchases:
Please go to your My Purchases page (you may need to login). Beside each purchase you'll see a Provide Feedback button. When you click it and you will be taken to a page where you can give a quick rating and leave a short comment for the product. You can check your credit balance in your TpT Credit Balance page. Every 100 Credits is worth $5 that you can apply towards future TpT purchases in my store, or any TpT store. I value and appreciate your feedback!
•••••••••••••••••••••••••••••••••••••••••••••••••••••••••••••••••••••••••••••••
https://www.teacherspayteachers.com/Product/Close-Reading-Passages-Inventions-2166686