by Creative Writing and Stories
Kindergarten – 2nd Grade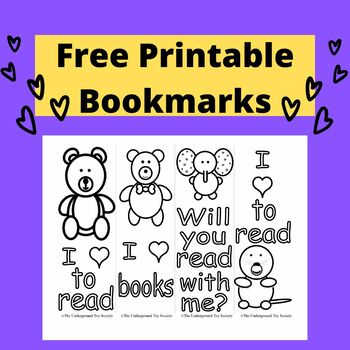 A printable PDF of 4 different bookmarks that kids can color to promote reading while working on fine motor skills for pre-writing and improved handwriting.
Please follow me for great resources to encourage kids to read, write, help others, and clean up after themselves! Creative Writing and Stories
Check out our other resources that can help increase handwriting, fine motor skills, writing, and reading skills.
By purchasing and using this resource, you agree that the contents are property of Jessica D. Adams and licensed to you for your personal or classroom use only.
You may not share this resource outside of your personal or classroom use.
You cannot make copies to share with others because it is a direct violation of the terms of use as well as copyright laws.
Adult supervision is recommended for all activities, especially cutting, gluing, sensory bin activities, etc. to ensure safety and so kids do not ingest foreign materials.
Disclaimer: These products are for general use and are not intended to replace the advice or expertise of a physician or Occupational Therapist. Please seek professional help when necessary. Circumstances and results may vary.
https://www.teacherspayteachers.com/Product/Coloring-Bookmarks-for-Reading-Fine-Motor-and-Cutting-Pre-Writing-Handwriting-5800246
Join The Best of Teacher Entrepreneurs Marketing Cooperative at
https://thebestofteacherentrepreneursmarketingcooperative.net/the-best-of-teacher-entrepreneurs-marketing-cooperative-one-year-membership/
and get THOUSANDS OF PAGE VIEWS for your TpT products!

Go to http://www.pinterest.com/TheBestofTPT/ for even more free products!