by The SLT Scrapbook
Kindergarten – 5th Grade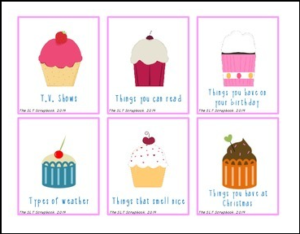 I am so excited to give you this Cupcake Themed freebie!! It's a fun and engaging categorisation game!
This packet contains:
11 pages of Cupcake Themed fun!
36 category cards, 12 game cards (pick up another/lose all)
Developed for use during speech and language therapy sessions, or in literacy centres.
Game play:
Take it in turns to pick up a card. If you pick up a category card, name items from that category, then you can keep it. If you pick up a "lose all your cards" card, you have to put all your cards back! The player with the most cards at the end of the game, wins!
For individual, personal use only. Please don't sell, share or claim as your own. If you like it, please comment and rate.
Thank you!
The SLT Scrapbook
Check out our blog, The SLT Scrapbook
You might also like:
Articulation Screener
Understanding Emotions Pack- Full of Feelings
Articulation Activities- No Prep- Halloween Themed- early sounds
Spelling Booklet- No Prep- Includes 220 Dolch high frequency words
Prepositions Activity; Monkeying Around
Open-Ended Games- Monster Themed
Open-Ended Games- Bugs- Spring Themed
Tell Me About It- Expressive and Receptive Language Activity