by The Fun Factory
Kindergarten – 1st Grade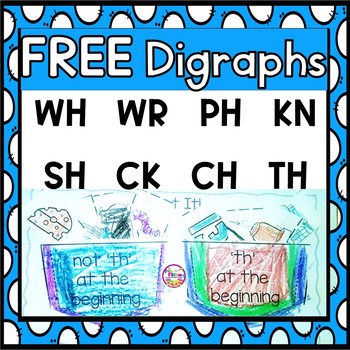 If your students need more practice working with digraphs, this FREE resource has a print and go PRINT and GO activity or worksheet for each of the digraphs TH, WH, WR, PH, KN, SH, CK, and CH. Students read, write, draw, graph, cut, glue and analyze various words that include the digraphs. All of the skills are presented in a fun engaging format.
If you and your students enjoy this FREE packet, you might want to take a look at the comprehensive 329 page money-saving BUNDLE which is more than 20% off!
Skills:
☺ Spin, read, and color – WH
☺ See it, make it, write it – WR
☺ Cut and paste – PH
☺ Word search and write a sentence – KN
☺ Worksheet – SH
☺ Worksheet – SK
☀☀☀☀☀☀☀☀☀☀☀☀☀☀☀☀☀☀☀☀☀☀☀☀☀☀☀☀☀☀☀☀☀☀☀☀☀☀☀☀☀☀☀
❤️ How to get TPT credit to use on future purchases:
Each time you leave feedback, TPT gives you credits that you can use to lower
the cost of your next purchases. Please rate this resource and leave feedback.
❤️ Be the first to know about our new resources.
Look for the green star next to our store logo and click it or HERE to become a follower.
❤️ Like us on Facebook at The Fun Factory on TpT
❤️ If you have any questions or need help with this resource, please email us at
thefunfactoryontpt@gmail.com
❤️ For FUN teaching ideas and freebies, visit us at The Fun Factory Blog
❤️ Follow on Pinterest
❤️ Follow on Instagram
☀☀☀☀☀☀☀☀☀☀☀☀☀☀☀☀☀☀☀☀☀☀☀☀☀☀☀☀☀☀☀☀☀☀☀☀

https://www.teacherspayteachers.com/Product/Digraphs-for-Kindergarten-and-1st-Grades-FREE-4410459
Join The Best of Teacher Entrepreneurs Marketing Cooperative at
http://www.thebestofteacherentrepreneursmarketingcooperative.com/2014/01/the-best-of-teacher-entrepreneurs.html
and get THOUSANDS OF PAGE VIEWS for your TpT products!

Victoria Leon's TpT Store
Go to http://www.pinterest.com/TheBestofTPT/ for even more free products!