by Teaching in the Primary Grades
1st – 5th Grade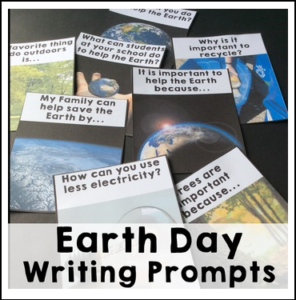 This pack includes 8 Earth Day writing prompt task cards to get your students thinking about how they can positively impact our planet. It also includes 2 sheets of lined writing paper (one with illustration space and one without.)
I hope you will visit me at www.teachingintheprimarygrades.com
-Jordan
________________________________________________________________
Thank you for your purchase! I love sharing my ideas with my fellow educators.
After you use this product, I would appreciate it if you left feedback to let me know how you liked the product. Remember. Giving feedback allows you to receive Teachers Pay Teachers credits which you can use to save money on future TPT purchases.
Please respect the time and effort I put into this product by not giving it away to others. I am a busy educator just like you. I make products for Teachers Pay Teachers because I believe it is important for educators to share their ideas with others. However, I also believe that all educators should be fairly compensated for their hard work. Your purchase allows you to return to your purchases page at Teachers Pay Teachers to purchase additional licenses at a reduced cost for your colleagues.
© Copyright 2016. Jordan Piacenti. All rights reserved. Permission is granted to copy pages specifically designed for student or teacher use by the original purchaser or licensee. The reproduction of any other part of this product is strictly prohibited. Copying any part of this product and placing it on the Internet in any form (even a personal/classroom website) is strictly forbidden. Doing so makes it possible for an Internet search to make the document available on the Internet, free of charge, and is a violation of the Digital Millennium Copyright Act (DMCA)."