by Carla McLeod
5th – 12th Grade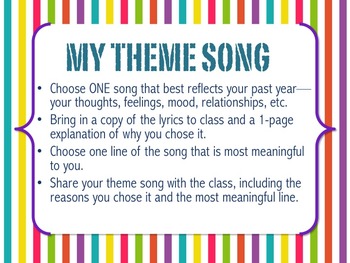 END OF THE YEAR ACTIVITIES FREEBIE!!!!
Ugh. What to do with those last few days of school when the material is covered, the tests are graded, and your students are jumping off the walls? This packet will help you end the year on the high note by providing fun, thought-provoking activities for your students to reflect upon their year, what they have learned in your class, and how they have grown as students and individuals. These have been created for high school language arts students, but can easily be used for students of all ages in a variety of subjects. Activities include teacher appreciation/apology letters, student-generated summer reading lists, personal theme song activities, end-of-year celebration ideas and more.
**************************************************************************
If you like this product, be sure to check out my End-of-Year Activity Pack: 30+ Pages of Activities for Secondary, with attractive handouts for each of these activities, plus PLENTY more activities your students will love!
***************************************************************************
BUNDLE AND SAVE
Save 20% by purchasing the End-of-Year Packet along with my best-selling First Week Survival Kit:
Start Strong, Finish Stronger: Back-to-School and End-of-Year Activity Bundle
**************************************************************************
Want more freebies like this? Follow me above for news on new freebies, flash freebies, sales, new products and more!
You might also like:
First Week Survival Kit: 20+ Back-to-School Activities
Back to School Mega-Bundle: Secondary Favorites Back to School Mega-Bundle: ELA Grades 9-10 Back to School Mega-Bundle: ELA Grades 11-12 Summer Reading Package: Assignment, Essay Prompts & Reading List

Keywords: End of the Year Activities, End of year activities, End-of-the-Year Activities, End of the Year Games, End of the Year Reflection

https://www.teacherspayteachers.com/Product/End-of-Year-Games-and-Reflection-Activities-720744
Join The Best of Teacher Entrepreneurs Marketing Cooperative at
http://www.thebestofteacherentrepreneursmarketingcooperative.com/2014/01/the-best-of-teacher-entrepreneurs.html
and get THOUSANDS OF PAGE VIEWS for your TpT products!

Victoria Leon's TpT Store
Go to http://www.pinterest.com/TheBestofTPT/ for even more free products!