by Life Beyond the Gradebook
5th Grade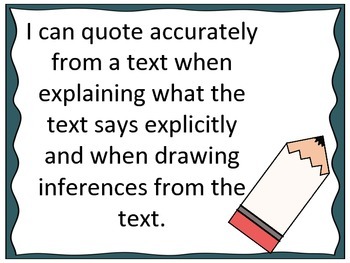 Engage NY ELA, Grade 5 – Module 2B Learning Goals
This PDF file contains signs for student learning goals for Engage NY's 5th grade English Language Arts curriculum. This file is for Module 2B.
The learning goals are written in student language, using "I can" statements and are ready to post in your classroom!
Keep your student learning goals up and easy to view with no prep work! Just copy onto brightly colored paper or print in color for great visuals!
Check out my other products for EngageNY 5th Grade ELA!
Posters:
Module 1, Unit 2, Learning Goals
PowerPoint Bundles:
Module 1, Unit 1
Module 1, Unit 2
Module 2B, Unit 1
Printable Exit Tickets
Module 2B, Unit 1, Exit Tickets
Module 1, Unit 3, Exit Tickets
Module 1, Unit 2, Exit Tickets
Supplementary Resources
Module 2B Glossary Booklet
***********************************************************************
Be the first to know about my new discounts, freebies and product launches:
Visit My Blog
Find me on Facebook
Twitter
Instagram

https://www.teacherspayteachers.com/Product/Engage-NY-ELA-Grade-5-Module-2B-Learning-Goals-1545330
Join The Best of Teacher Entrepreneurs Marketing Cooperative at
http://www.thebestofteacherentrepreneursmarketingcooperative.com/2014/01/the-best-of-teacher-entrepreneurs.html
and get THOUSANDS OF PAGE VIEWS for your TpT products!

Victoria Leon's TpT Store
Go to http://www.pinterest.com/TheBestofTPT/ for even more free products!