by Darlene Anne
5th – 8th Grade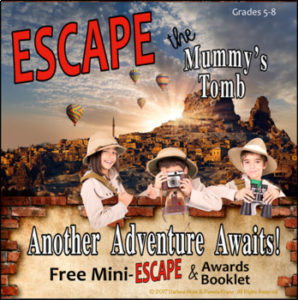 This FREE Escape Room resource is perfect to leave with a sub or to use anytime you want your kids to experience some self-directed learning. It begins when YOU- the most awesome and creative teacher in the history of the world- take your class to tour the great pyramids of Egypt. The trip doesn't go exactly as planned, and now the kids must work to solve a series of FUN challenges based on reading comprehension and steeped with a variety of skills that begin with FOLLOWING DIRECTIONS!
Students will use critical thinking skills, problem-solving, reading comprehension, writing, and order of operations to ESCAPE THE MUMMY'S TOMB!
================================
Everything is organized and ready to go! All that is needed is a printer.
The set up is easy!
♦ At-a-glance instructions.
♦ At-a-glance answers.
♦ Exit slips.
♦ Awards to celebrate a successful escape.
♦ FREE BONUS! An award booklet that can be used to document all past and future escapes is also included!
================================
Our ESCAPE activities are interactive and immersive. YOUR students are directly involved in the story. This is perfect to use for an observation, to set up for a substitute, to use as an end of the year activity, to use as a review, or to use on any day that you want to relax and watch your students have a blast AND learn together with a team!
Completing the entire escape can take anywhere from 35-45 minutes, depending on how quickly the class is able to complete the activities. Students will not have to leave the room. This is NOT a scavenger hunt.
Have fun and be sure to come back for more ESCAPE ROOM challenges!
★ ESCAPE ROOM PLANET: ELA CONTEXT CLUES & INFERENCES BREAKOUT ACTIVITY
★ ESCAPE ROOM: ELA COMPREHENSION & WRITING BREAKOUT ACTIVITY
★ ESCAPE THE FOREST! TEXT STRUCTURE, PLOT, IDIOMS, & PEMDAS BREAKOUT ACTIVITY
This awesome resource is a collaboration between Pamela Kranz and Darlene Anne.
https://www.teacherspayteachers.com/Product/ESCAPE-THE-MUMMYS-TOMB-MINI-ESCAPE-ROOM-ACTIVITY-3133670