by Evenings With Drake
3rd – 6th Grade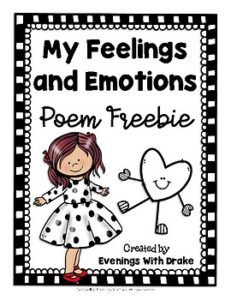 This reading and writing free resource sampler has been created as a way to help 3rd, 4th, 5th, and 6th grade students explore the range and depth of their feelings and emotions, specifically on how to heal a hurt heart, through the use of poetry. This one (1) poem resource is a perfect tool for teachers, school counselors, parents, therapists, paraprofessionals, group-home personnel, or anyone who works with upper elementary school-aged children.
Interested in the full Feelings and Emotions Poem and Journal Set? Click HERE for more information!
How It Works: Students practice reading an originally written, focus-based poem either independently, or as part of small group sessions, as a way of helping themselves process any emotional responses they may have when dealing with life's typical, everyday situations. The poem, "Somehow," is exactly one page in length. A poem reflection page and lesson extension printable are also included.
What's Included?
*One (1) Feeling and Emotion Poem, "Somehow"
*One (1) Real-Time Reflection Writing Page
*One (1) Lesson Extension Printable
*Answer Key
Happy poem reading! 🙂
Evenings With Drake
Thanks for stopping by!
Interested in poems? Click the link below, then scroll down, to view more poetry products:
I love new followers! Click that little green star below my store name and become one! You'll be notified of new uploads, discounted items, freebies, and more! 🙂
https://www.teacherspayteachers.com/Product/Feelings-and-Emotions-Poem-Freebie-3473695