by Ashleigh
3rd – 6th Grade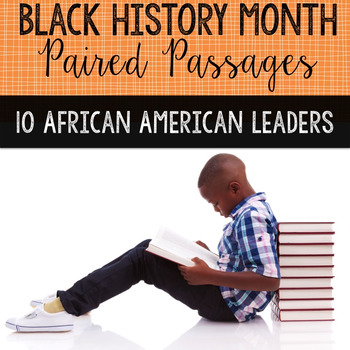 GREAT for Black History Month Paired Passages! This is perfect for improving students' reading comprehension and written response to text-just in time for end of the year testing!
These reading passages make a perfect companion product! Black History Month Close Reading Passages
**************************************************************************
I am so excited to share these five sets of questions that can be used for African American historical figures and hero paired passages. For each person, there is one page of paired comprehension questions and one extended response question. The pairs of historical figures included are:
Jesse Owens & Ruby Bridges
Frederick Douglass & George Washington Carver
Martin Luther King & Thurgood Marshall
Harriet Tubman & Sojourner Truth
Mary McLeod Bethune & Rosa Parks
Students may conduct research to answer these questions via computers, apps, or nonfiction books. I also recommend my Black History Month Close Reading Passages for the information needed to answer the questions. All of the paired comprehension questions and extended response questions were written based on the content of the passages.

https://www.teacherspayteachers.com/Product/FREE-African-American-Heroes-Questions-2979061
Join The Best of Teacher Entrepreneurs Marketing Cooperative at
http://www.thebestofteacherentrepreneursmarketingcooperative.com/2014/01/the-best-of-teacher-entrepreneurs.html
and get THOUSANDS OF PAGE VIEWS for your TpT products!

Victoria Leon's TpT Store
Go to http://www.pinterest.com/TheBestofTPT/ for even more free products!