by Miss Faleena
Pre-Kindergarten – 1st Grade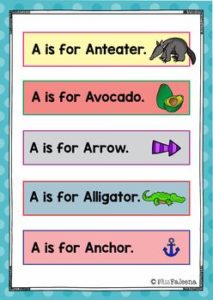 Letter of the Week A is designed to help teach letter A for children who are learning their letters. You can use as a class time worksheet or homework.
This set contains pages of variety activities, games and worksheets. It will help to teach your students to recognize, read, write, solve, and listen for the beginning sound of that letter. The following activities are included in your purchase:
• Letter A Flash Cards
• Alphabet Sentences: It helps to recognize the letter and beginning sounds.
• Trace the Letter A Uppercase and Lowercase
• Write the Letter A Uppercase and Lowercase
• Letter Find Worksheets
• Color the picture with the beginning sound
• Word Match
• Sort the upper- and lowercase letters A
• Sort The Pictures
• Sort The Words
• Letter Match Puzzle
• Missing Letter in a word and a sentence
• Draw Pictures
This Product is included in Alphabet Letter of the Week A to Z The Bundle. Please do not purchase this product if you have already purchased the bundle.
Get The Alphabet Letter of the Week Bundle HERE
For more Alphabet Letter of the Week CLICK HERE
If you like this product, you may like:
Kindergarten Morning Work Set I
Kindergarten Morning Work Set 2
Kindergarten Morning Work Set 3
Kindergarten Morning Work The Bundle
Check out my other free lessons HERE
For more information about my products and freebies, please check out:
Miss Faleena Pinterest
Miss Faleena Instagram
Miss Faleena Facebook
Miss Faleena Website
Thank you for stopping by! You can contact me at Faleena@yahoo.com with any question.
Preschool | Preschool Worksheets | Kindergarten | Kindergarten Worksheets | First Grade | First Grade Worksheets | Alphabet | Alphabet Letter of the Week | Phonics | Reading | Writing | Alphabet Letter A | Word Literacy Centers | Printables| Worksheets
https://www.teacherspayteachers.com/Product/Free-Alphabet-Letter-of-the-Week-A-2938333