by Brenda Tejeda
Kindergarten – 2nd Grade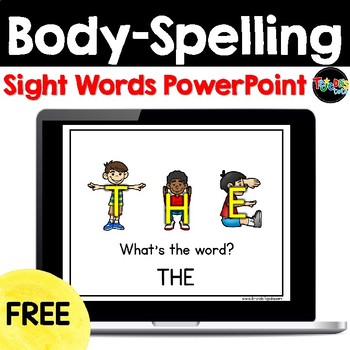 ⭐The bundle has just been posted and is 40% OFF for a limited time!⭐ Grab it here:
40% OFF: Body-Spelling Sight Words BUNDLE

Sight word fluency is so important, yet many kids struggle to build and retain a strong sight word vocabulary, despite a variety of approaches.
Movement has been scientifically proven to be linked with increased academic performance! Most students are kinesthetic learners and using their bodies to spell words is a great way to incorporate movement into sight word instruction!
This PowerPoint presentation is a free sample of my Body-Spelling PowerPoint resource. It includes the sight word 'the' for you to try with your students.
With this PowerPoint, you'll be able to introduce sight words using all 4 learning styles:
❶ Visual– students read the target sight word, and again in context
➋ Auditory– students say, spell, and hear the sight word
❸ Reading & Writing– students read and write the word on whiteboards or in a student notebook
➍ Kinesthetic– students sky-write and body-spell the sight word
In addition to targeting the 4 learning styles, this method teaches the sight word in context, ensuring comprehension.
If you own my Ultimate Sight Words Bundle, you get this resource free, as it has been added to the bundle!
Thanks for reading!
Brenda Tejeda- Tejeda's Tots


https://www.teacherspayteachers.com/Product/FREE-Body-Spelling-Sight-Words-PowerPoint-3849766
Join The Best of Teacher Entrepreneurs Marketing Cooperative at
http://www.thebestofteacherentrepreneursmarketingcooperative.com/2014/01/the-best-of-teacher-entrepreneurs.html
and get THOUSANDS OF PAGE VIEWS for your TpT products!

Victoria Leon's TpT Store
Go to http://www.pinterest.com/TheBestofTPT/ for even more free products!