by Kids are the Future
6th – 10th Grade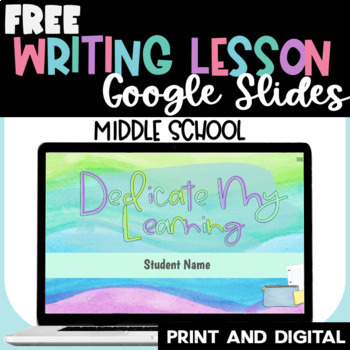 The purpose of this task is for students to write a detailed paragraph about someone they would like to dedicate a day of learning to. They will practice prewriting and plan their paragraph before writing a good copy to include in a slideshow.
Students will take turns presenting their dedications on different days at the beginning of class. The goal of this assignment is to start the day positively and to build a safe and supportive classroom environment for learning.
This free product includes:
-Assignment with student instructions (Google Slides)
-Assignment example to model clear expectations (PDF)
-2 Checklists
-Graphic Organizer (Google Doc)
Ready for Google Classroom! The link to the whole assignment Google Drive folder is included for you to Make a Copy of the files.
This resource is suitable for virtual distance learning and in-person learning. Everything is ready for Google Classroom! You can also print the Slides or Docs to provide hard copies to your classroom.
This is intended for personal use in your classroom only. You may edit the bitmoji and instructions to suit your classroom. Please do not claim this as your own.

Thank you! I hope you find this helpful.
Connect With Me:
How do I earn TPT credits to save money on my future purchases?
Click on My Purchases and beside each product, you can view whether you have left feedback about a product. Click on Leave a Review underneath the product title and seller.
Please leave a review if you can, I would really appreciate it. Follow me for future products, updates, and sales!
© Erika Quach

https://www.teacherspayteachers.com/Product/FREE-Dedication-Paragraph-Writing-Lesson-Language-Arts-Google-Classroom-6565060
Join The Best of Teacher Entrepreneurs Marketing Cooperative at
https://thebestofteacherentrepreneursmarketingcooperative.net/the-best-of-teacher-entrepreneurs-marketing-cooperative-one-year-membership/
and get THOUSANDS OF PAGE VIEWS for your TpT products!

Victoria Leon's TpT Store
Go to http://www.pinterest.com/TheBestofTPT/ for even more free products!