by Charity Preston
2nd – 8th Grade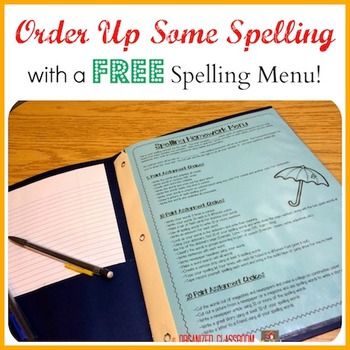 This is a great tool for getting spelling homework returned every week! Parents and students love the free choice it creates!
Students pick from a wide menu of items that are valued at different points, making sure to turn in enough points to satisfy the teacher requirement. Even on short weeks, just reduce the number of points required. Management tip: Run the menu off on card stock, laminate, hole punch, and place in a three-prong homework folder so you save paper on spelling homework all year long! Or print the different templates on different colors to keep it fresh and fun throughout the year (place in a sheet protector) in the 3 brads of a 2-pocket folder.
Please be reminded that the files you have are to be used by ONE classroom teacher per copyright law. I really thank you for respecting my time and work.
Want more great teaching tips and classroom organization ideas? Register for one of our FREE Workshops, add our feed to your RSS reader, or visit us on Facebook, Pinterest, my TpT Store, and Instagram!

https://www.teacherspayteachers.com/Product/FREE-Differentiated-Spelling-Homework-Menu-1110918
Join The Best of Teacher Entrepreneurs Marketing Cooperative at
http://www.thebestofteacherentrepreneursmarketingcooperative.com/2014/01/the-best-of-teacher-entrepreneurs.html
and get THOUSANDS OF PAGE VIEWS for your TpT products!

Victoria Leon's TpT Store
Go to http://www.pinterest.com/TheBestofTPT/ for even more free products!