by Mrs Thompson's Treasures
Pre-Kindergarten – Kindergarten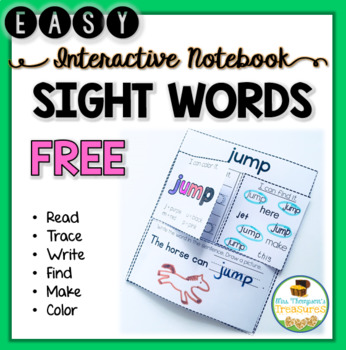 ❤️ This is a sample page. The full set of pre-primer and primer words can be found here:
Sight Words Interactive Notebook
⭐ Interactive Notebooks can be fun, engaging, and meaningful, but they can also be a lot of cutting, gluing, small pieces of paper, and a big mess! I've designed this Easy Interactive Notebook to keep it fun and engaging, but not quite so overwhelming!
⭐ Everything you need for each word is on one page. Students will cut what they need as they go, so no small papers will get lost or accidently thrown away in the trash!
⭐ This is the perfect interactive notebook for those of you wanting something fun and simple for your students to make so they can keep their work together in one place!
⭐ For each word, students will read, trace, write, make, find, color, and use it in a sentence! By interacting with the words in many different ways, they will be more likely to remember and recognize them!
✅ This sample download includes the word "jump" for you to try out!
Lauren Thompson @ Mrs. Thompson's Treasures

https://www.teacherspayteachers.com/Product/FREE-Easy-Sight-Words-Interactive-Notebook-Sample-1488050
Join The Best of Teacher Entrepreneurs Marketing Cooperative at
http://www.thebestofteacherentrepreneursmarketingcooperative.com/2014/01/the-best-of-teacher-entrepreneurs.html
and get THOUSANDS OF PAGE VIEWS for your TpT products!

Victoria Leon's TpT Store
Go to http://www.pinterest.com/TheBestofTPT/ for even more free products!