by KB3Teach
Pre-Kindergarten – 1st Grade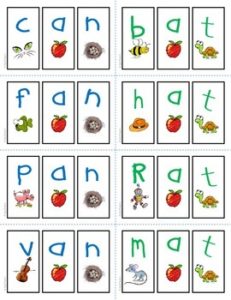 FREE Segmenting Flashcards: Reinforce letter/sound correlations while practicing segmenting and blending sounds. Common Core standards (RF.K.2d; RF.K.3a)
CURRENT SAMPLE FILE (Short "A") INCLUDES:
– 16 Mini Interactive Flashcards
– 16 Vocabulary Tracing Cards
– 16 "Write and Wipe" Picture Cards
– Sentence Template
– B&W Flashcards & Vocabulary Set
FOR THE COMPLETE FILE (Short "A") CLICK HERE:
Interactive Flashcards (Short "A")
– 32 Mini Interactive Flashcards
– 32 Vocabulary Tracing Cards
– 32 "Write and Wipe" Picture Cards
– Sentence Template
– B&W Flashcards & Vocabulary Set
ADDITIONAL FLASHCARD SETS:
Interactive Flashcards (Short "E")
Interactive Flashcards (Short "I")
Interactive Flashcards (Short "O")
Interactive Flashcards (Short "U")
Interactive Flashcards *AEIOU* (BUNDLE)
INSTRUCTIONS:
1) Print one 8.5×11 page per student (8 flashcards per page)
2) Students cut on dotted lines to make individual flashcards.
3) Students use picture cues to fill in the missing letters (mouse/apple/turtle = m / a / t)
4) Students use individual flashcard sets to "test" a partner, blending phonemes into CVC words (c / a / t = cat)
Note: If students are just beginning to learn the sounds of the letters, and are still learning how to segment and blend, you might want to cut the 8.5×11 sheets into two sets (an/at endings) and use them on two different days.
Suggested Extension:
Students read/blend the word, then draw a picture on the back of the flashcard. For more advanced students, have them write a simple sentence using the words in context.
If you'd prefer letter tiles instead of flashcards, I do have a set of "Interactive Letter Tiles" (requested by another wonderful buyer) that includes A-Z tiles, as well as a set of digraph tiles.
Interactive Letter Tiles
RELATED PRODUCTS:
Alphabet Sound Chart
Alphabet Wall Cards A-Z
CVC Segmenting Flashcards (AEIOU)
Click "Follow" above to receive automatic "new product" notifications from TpT.
*All pictures, fonts and graphics used with permission from original copyright holders.*
https://www.teacherspayteachers.com/Product/FREE-Interactive-Phonics-Segmenting-Flashcards-CVC-Mystery-Words-1064879