by Tracee Orman
6th – 9th Grade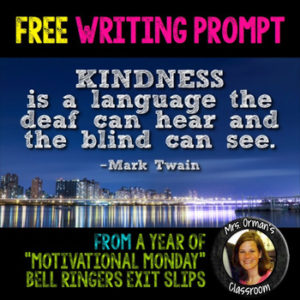 "Kindness is a language the deaf can hear and the blind can see."
From my best-selling Motivational Monday Weekly Writing Prompts Bell Ringers or Exit Slips, enjoy this free quote about kindness, along with four writing prompt questions and an optional handout.
This resource is a great way to promote positive behavior in your students, start a discussion about kindness, bullying, etc., or to kick off a "random acts of kindness" project. Plus, it's EDITABLE! Change the prompts to suit your needs.
This IS included in my mega bundle: ALL of my WRITING RESOURCES GROWING BUNDLE.
If you like this resource, you'll love having all 53 motivational quotes to use throughout the year. The full download comes with a classroom "Motivational Monday" sign and is completely editable so you can customize it for your students.
#kindnessnation
#weholdthesetruths
Find additional bell ringers and exit slips here:
Motivational Monday Weekly Writing Prompts Bell Ringers or Exit Slips {Editable}
A Year of Journal Prompts Aligned to the Common Core State Standards {Editable}
Google Drive Bell Ringers for ANY Book or Story
Common Core Bell Ringers and Exit Slips Bundle, Vol. 1
Common Core Bell Ringers Exit Slips Bundle, Volume 2
Created and copyrighted by Tracee Orman
All Rights Reserved
https://www.teacherspayteachers.com/Product/Free-Kindness-Quote-Writing-Prompt-kindnessnation-weholdthesetruths-2963051