by DramaMommaSpeaks
4th – 7th Grade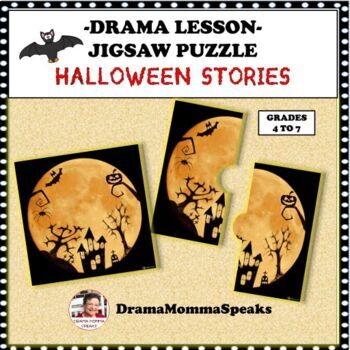 Free! Create stories using jigsaw puzzle pieces is a fun warm-up for your class for October using a Halloween theme. This activity gives students the opportunity to work cooperatively at a relaxed pace and use their creative problem-solving skills. Using the jigsaw puzzle pieces as a way to team up the students, they create a mini-story based on the pieces, write it and share it with the class. It can be adapted to many grade levels and subjects, but I recommend fourth through seventh.
Many grade levels and subjects use this warm up-drama, language arts, art, music, social studies, etc. Select postcards or make your own (most appropriate for your subject), turn them into puzzle pieces and go!
Time tested by veteran award-winning drama teacher of 38 years.
Do you follow me? If not I'd love it if you would! Follow me
Find more Dramamommaspeaks products at Dramamommaspeaks
Reviews of Dramamommaspeaks Products:
"WOW! WHAT an AWESOME Resource!!!! Thanks for providing the questions, the links, a couple of different teaching options. This could be a great sub plan, but I know every teacher wants to do this lesson for themselves. Love that you finished with a great tweet from L M Miranda. Kids are gonna love THIS."
"This resource is a fantastic way to tie Social Studies into reading! Thank you!"
Costume Design Study with Fairy Tales
"This resource greatly added to my fractured fairy tale theatre unit! Thank you!"
Earning TPT Credits
• Do you want credit for future TPT purchases? Just provide feedback for resources you purchase. Click on the "provide feedback" button next to your purchases, rate the resource, and leave a short comment. (You need to do both to earn credits.)
You receive 1 TPT credit for each dollar you spend, and you can spend it just like cash on future Teachers Pay Teachers purchases.

https://www.teacherspayteachers.com/Product/Free-Lesson-Storytelling-Using-Jigsaw-Puzzle-Pieces-Halloween-Theme-7251490
Join The Best of Teacher Entrepreneurs Marketing Cooperative at
https://thebestofteacherentrepreneursmarketingcooperative.net/the-best-of-teacher-entrepreneurs-marketing-cooperative-one-year-membership/
and get THOUSANDS OF PAGE VIEWS for your TpT products!

Go to http://www.pinterest.com/TheBestofTPT/ for even more free products!