by Two Pencils and a Book
5th – 12th Grade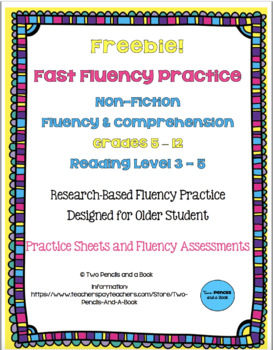 This resource is designed to help older students achieve reading fluency through low-level, grade appropriate, timed assessments – in as little as 10 minutes a day.
I designed this program around the research of Hasbrouck, Glaser, Tindal and Hasbrouck that asserts that students are motived and gain reading fluency by reading and re-reading short passages – paired one-on-one with like-leveled peers.
This resource addresses many levels of fluency and is naturally differentiated.
I have also successfully used this program — working one-on-one with students, as well as sending it home as homework, for students to work with their parents.
In "Fast Fluency Practice for Older Students" – you receive 5 non-fiction reading passages, 5 corresponding comprehension quizzes, answer key — and more.
Also included are easy to follow instructions, fluency charts, grade level fluency charts, student record blackline master, parent/teacher letter…
Table of Contents
Why Fluency page 3
Fluency Fits Anywhere page 3
Instructions page 4
Reading Level page 5
Oral Reading Fluency page 6
Parent Letter page 7
Passage 1: American Revolution Begins page 8
Passage 1 Comprehension Questions page 9
Passage 2: The Tea Act page 10
Passage 2: Comprehension Questions page 11
Passage 3: Non-Renewable Resources page 12
Passage 3: Comprehension Questions page 13
Passage 4; Inner Planets page 14
Passage 4: Comprehension Questions page 15
Passage 5: Georgia O'Keeffe page 16
Passage 5: Comprehension page 17
Fluency Record page 18
Credits and Answer Sheet page 19

https://www.teacherspayteachers.com/Product/Freebie-Fast-Fluency-Practice-Non-Fiction-Fluency-Comprehension-Gr-5-12-4663686
Join The Best of Teacher Entrepreneurs Marketing Cooperative at
https://thebestofteacherentrepreneursmarketingcooperative.net/the-best-of-teacher-entrepreneurs-marketing-cooperative-one-year-membership/
and get THOUSANDS OF PAGE VIEWS for your TpT products!

Victoria Leon's TpT Store
Go to http://www.pinterest.com/TheBestofTPT/ for even more free products!