by SK Designs
5th – 12th Grade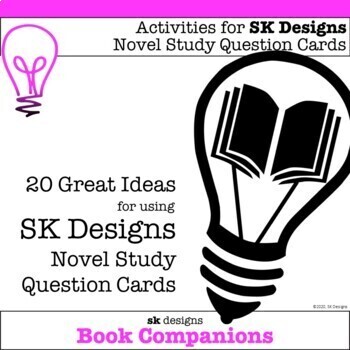 Use these engaging activity ideas for teaching with the novel study question card sets from SK Designs. These novel studies provide flexibility and variety in guiding students through a wide array of quality children and young adult novels. The content of the card sets is designed to engage students in literal comprehension skills, standards-based comprehension skills, higher level comprehension skills and analytical/critical thinking skills. The challenge level of the questions allows the teacher to select questions at an appropriate level for reluctant and struggling readers, developing readers, proficient readers, and exceptional readers. The different types of activities outlined in this product assist the teacher in teaching details, elements of literature, author's craft, figurative language, and important meta-cognitive reading skills with SK Design's novel study sets. The ideas are provided free of charge and demonstrate how to use the novel studies in a variety of ways that promote novelty, interest, constructive practice, and fun. The activities are multi-sensory and cooperative. They promote executive function, visual literacy, communication, collaboration, composition, and oral language skills. Select different activities for different books according to student needs, interest, and book content. Enjoy the opportunities these activities provide for fun and productive novel study as our gift to you and your students!
https://www.teacherspayteachers.com/Product/Great-Ideas-for-using-SK-Designs-Novel-Study-Question-Cards-in-the-Classroom-5238160
Join The Best of Teacher Entrepreneurs Marketing Cooperative at
https://thebestofteacherentrepreneursmarketingcooperative.net/the-best-of-teacher-entrepreneurs-marketing-cooperative-one-year-membership/
and get THOUSANDS OF PAGE VIEWS for your TpT products!

Go to http://www.pinterest.com/TheBestofTPT/ for even more free products!