by Growing Smart Readers
2nd – 3rd Grade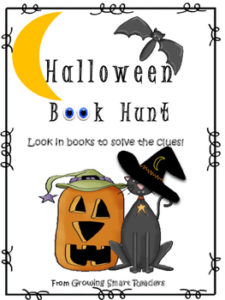 Just REVISED!
Name a book that has a witch in it! Find a word that rhymes with stew….Here's a way to get kids to move around and open up a few books. Kids will enjoy this "seek-and-find" vocabulary activity, which is especially appropriate for students in grades 2-4.This activity works ESPECIALLY well when kids are allowed to work in pairs or with a buddy.
Have a slew of books out on a table or in a bin for them to peruse…just to make the hunt a little easier.
Great for fast finishers and literacy stations.
They can work independently, or as mentioned above, work with a reading buddy.
They'll have a little fun with the third page which includes 5 riddles for which students need to find matching answers. They can illustrate those riddles or make a mini book with them after all is done.
Thanks for considering purchasing, and choosing this product for your students.
Karen