by Growing Smart Readers
2nd – 3rd Grade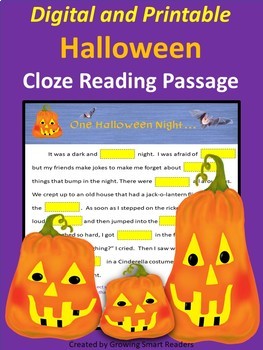 Students create a narrative by completing a digital cloze reading passage (not to be confused with close reading). If you have not introduced your students to Google Drive, or Google Slides, or are not sure how this works, it is easier than it looks.
Simple directions are included. This does not have an external link. *You create your own link once you put it into your Google Drive, and share/send to your students for them to OPEN in Google Slides so that they can interact with the text.* (Go to ask a question if you need help with this! I'm happy to help as best as I can.)
Please note: The student page has word boxes (movable pieces for the missing words) are given on the page. These word boxes are editable! In this case, the answer sheet included in this file would not apply.
This page can be differentiated.
So students who want more of a challenge, can delete any words from the boxes and type in their own words, if they choose. You, the teacher or parent, can edit the word choices/word boxes before sharing with your students. Or as mentioned above, they can type in their own words. Of course, they can use this 'as is', too.
This zip file contains 2 formats for the Halloween cloze reading passage:
1. PDF copy to print out for students who wish to write on paper
2. PowerPoint copy with movable and/or editable words that can be dropped and dragged into of the passage.
3. Halloween scene with movable parts to drop, drag, duplicate, and resize.

If you have questions, or something is not clear please go to Ask a Question first! I will respond as quickly as possible. Since this is new type of product for me to create, I would appreciate any feedback…so that I can make improvements on the next one!
If you haven't tried paperless lessons yet, you should give it a try! I hope you and your students enjoy this free reading activity.
Please note that this is a zip file. Be sure you are able to open and extract the files.
Thanks for stopping by, and for your interest in this product.
Karen

https://www.teacherspayteachers.com/Product/Halloween-Reading-Activity-Digital-Printable-3312924
Join The Best of Teacher Entrepreneurs Marketing Cooperative at
http://www.thebestofteacherentrepreneursmarketingcooperative.com/2014/01/the-best-of-teacher-entrepreneurs.html
and get THOUSANDS OF PAGE VIEWS for your TpT products!

Victoria Leon's TpT Store
Go to http://www.pinterest.com/TheBestofTPT/ for even more free products!