by Rike Neville
8th – 12th Grade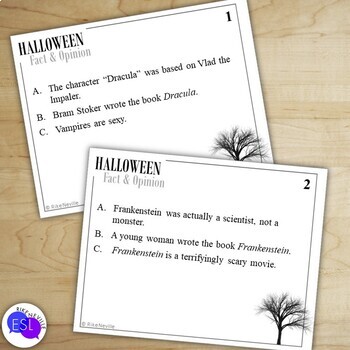 If your students need practice identifying fact from opinion, and it's close to Halloween time, this is your lucky day!
Included:
3 pages of Halloween-themed task cards (total of 12) each with three statements to be identified as "fact" or "opinion" (total of 36 statements)
1 page answer sheet/answer key
Starring in the task card statements are: Dracula, Frankenstein, werewolves, zombies, psychopathic children, witches, ghosts, fear, cemeteries, full moon, Ouija boards, & costumes.
Created with secondary to adult students in mind. Great for ESL students!
Prefer to have this in digital presentation form? Halloween-Themed Fact and Opinion Digital Presentation
PSSSST! Wouldn't it be fun to have these as BOOM cards? CLICK!
Need Fact & Opinion resources that are good for any time of the year? Check out:
***GET ALL THREE IN THIS BUNDLE***
━━━━━━━━━━━━━━━━━━━━━━━━━━━━━━━━━━━━━━━━━━━━━━
❤️ I greatly appreciate and treasure your feedback as it helps me determine which resources are the most valuable for your classroom so I can create more for you. ❤️
━━━━━━━━━━━━━━━━━━━━━━━━━━━━━━━━━━━━━━━━━━━━━

https://www.teacherspayteachers.com/Product/Halloween-Themed-Fact-Opinion-Task-Cards-2789819
Join The Best of Teacher Entrepreneurs Marketing Cooperative at
https://thebestofteacherentrepreneursmarketingcooperative.net/the-best-of-teacher-entrepreneurs-marketing-cooperative-one-year-membership/
and get THOUSANDS OF PAGE VIEWS for your TpT products!

Victoria Leon's TpT Store
Go to http://www.pinterest.com/TheBestofTPT/ for even more free products!