by Tracee Orman
5th – 12th Grade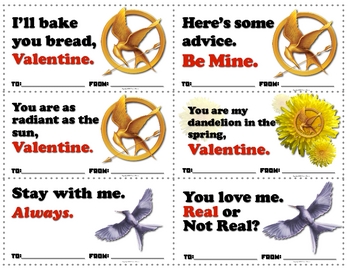 Happy Hunger Games…oops, I mean Valentine's Day! Here are my popular Valentine printables from my blog with some new designs added. This download includes five pages with six Valentines on each page.
The messages are:
Valentine, you're more charming than a dead slug!
I'm aiming for you, Valentine!
I'm fired up to be your valentine.
May the odds be ever in your favor, Valentine.
Still betting on you, Valentine.
You have no idea. The effect you can have.
You here to finish me off, Sweetheart?
You love me. Real or Not Real?
Here's some advice. Be Mine.
You are my dandelion in the spring, Valentine.
Stay with me. Always.
You are radiant as the sun, Valentine.
You're hotter than Finnick Odair in his underwear. (Warning, that one may not be appropriate for younger students. Use your best judgement.)
I'll bake you bread, Valentine.
I hope you enjoy!
Created by Tracee Orman
Hunger Games Lessons

https://www.teacherspayteachers.com/Product/Hunger-Games-Valentine-Cards-Free-Printables-179115
Join The Best of Teacher Entrepreneurs Marketing Cooperative at
https://thebestofteacherentrepreneursmarketingcooperative.net/the-best-of-teacher-entrepreneurs-marketing-cooperative-one-year-membership/
and get THOUSANDS OF PAGE VIEWS for your TpT products!

Victoria Leon's TpT Store
Go to http://www.pinterest.com/TheBestofTPT/ for even more free products!