by The Dabbling Speechie
Pre-Kindergarten – 2nd Grade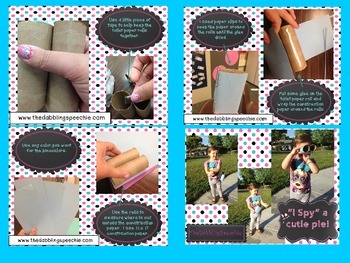 Thanks for downloading this freebie!
Make some binoculars out of toilet paper rolls and talk your kids on an "I Spy" nature walk BINGO adventure!!
Directions: Print up the BINGO cards on page 4. Each student gets their own sheet. Using the binoculars you made, take the students on a nature walk around the school. The students can cross off any items that they find along the way. After the nature walk, students can make their own nature books. The students can pick items that they saw, felt, discovered or found while on their nature walk and draw on the story pages. Have your students describe the items in their nature books by attributes, use in grammatically correct sentences or with prepositional phrases. They can take the book home to share and explain with parents.
Go to my blog for more pictures and information about this product. www.thedabblingspeechie.com
You can also email me at: thedabblingspeechie@gmail.com with any questions.

https://www.teacherspayteachers.com/Product/I-Spy-Nature-Walk-BINGO-Book-FREEBIE-1220184
Join The Best of Teacher Entrepreneurs Marketing Cooperative at
http://www.thebestofteacherentrepreneursmarketingcooperative.com/2014/01/the-best-of-teacher-entrepreneurs.html
and get THOUSANDS OF PAGE VIEWS for your TpT products!

Victoria Leon's TpT Store
Go to http://www.pinterest.com/TheBestofTPT/ for even more free products!