by victoria moore
Kindergarten – 1st Grade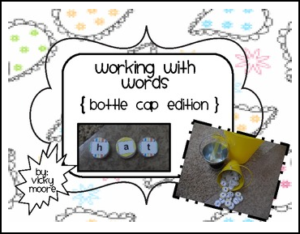 This 10 page ** freebie ** would make a fun center for your kiddos. I have included a link on how to make the bottle caps all cute ( by Kayla ) at Primary Junction. If you want the letters they are free at Kayla's blog…link is in freebie. Although if you are short on time you could just use a sharpie on the caps. Included are:
*cover/credit pages
*4 worksheets
*directions pages/photos
*center recording sheet
Enjoy – I hope your students really enjoy using these.
https://www.teacherspayteachers.com/Product/Literacy-Center-bottle-cap-word-work–289276
Go to http://www.pinterest.com/TheBestofTPT/ for even more free products!