by Learning Harbor Resources for Teachers
Kindergarten – 2nd Grade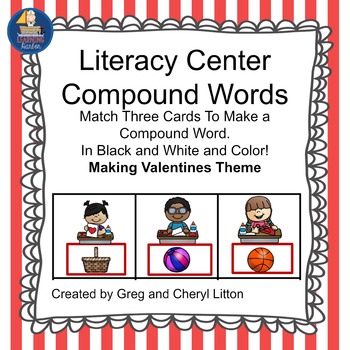 Download the preview for a free sample of this literacy center, so you can try it before you buy it.
This literacy center idea is great for kindergarten, first grade, special education, and intervention. There are 18 compound words. Students put the pictures in this order first word, second word, compound word. The words included are basketball, butterfly, armchair, earring, fireman, mailbox, jellyfish, rainbow, pancakes, snowman, toothbrush, treehouse, sunglasses, doghouse, fishbowl, football, lipstick, cupcake.
Print and laminate and you will be able to use these for years. If some pieces are lost or damaged – no problem! Just go to your My Purchases page (you may have to log in) then download the product again for free and print what you need.
A recording sheet is also included so that students may draw the first word, the second word, and the compound word for 4 compound words.
An assessment sheet is included on which the students will draw word one, word two, and the compound word for 5 of the compound words that he has put together by matching the cards.

https://www.teacherspayteachers.com/Product/Literacy-Center-Idea-Compound-Words-With-Pictures-Grades-K-and-1-Valentine-Theme-2278402
Join The Best of Teacher Entrepreneurs Marketing Cooperative at
https://thebestofteacherentrepreneursmarketingcooperative.net/the-best-of-teacher-entrepreneurs-marketing-cooperative-one-year-membership/
and get THOUSANDS OF PAGE VIEWS for your TpT products!

Victoria Leon's TpT Store
Go to http://www.pinterest.com/TheBestofTPT/ for even more free products!