by Class around the Corner
Kindergarten – 12th Grade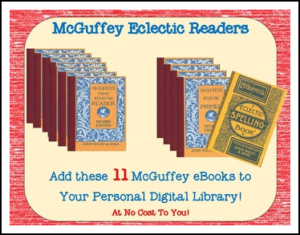 Add these 11 McGuffey eBooks to your personal digital library (over a thousand pages)!
For Teachers, Parents and Homeschoolers –
Imagine a collection of material that you can freely access, freely use to create your own TPT products and lessons for your classroom.
You will only be limited by your creativity and your time in producing a prolific amount of quality materials.
"From 1836 onward for three-quarters of a century, McGuffey Readers have played a conspicuous part in the education of millions." –History of the McGuffey Readers
With this presentation you can quickly access the links, read the terms of use, and download the eBooks to your digital library.
(And smile at the treasure you have found online.)
This "FREEBIE" is Volume 1 of Treasure Trove of Valuable Resources for TPT.
Please click on the "follow me" star for notifications of additional, valuable volumes of resources that you can access and use for TPT products or for your classroom.
You will not be disappointed.
https://www.teacherspayteachers.com/Product/McGuffey-Eclectic-Readers-Speller-and-Primer-eBooks-over-a-1000-pages-1830275