by Carrberry Creations
1st – 3rd Grade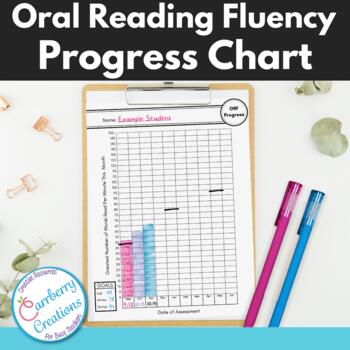 Do you assess student reading fluency using an Oral Reading Fluency [ORF] Assessment? This resource is designed to keep your students motivated and on track to reading their words read per minute goals.
Easy to use design:
To use the chart I recommend printing 1 copy, filling in your district's benchmark targets for your grade level, and marking those goals on the chart. Then photocopy a class set. As students are assessed on their Oral reading fluency shade in the graph to show how many words they read per minute on their assessment.
It is a good idea to talk with students about the progress they are making and strategies for improving their reading fluency each time you assess them. You may also want to set personalized midpoint goals for students to work towards.
Always remember to celebrate the progress students are making towards their goals to keep their momentum going.
Please let me know if you have any questions!
Looking for more engaging literacy resources? Check these out:
Take a look at what a satisfied teacher had to say about this resource:
⭐ ⭐ ⭐ ⭐ ⭐ "My students, parents, and I all enjoyed using this graphing system. Thank you for providing a product that helped my students track their process and feel successful as they worked to reach their goals."
Don't forget that leaving feedback earns you points toward FREE TPT purchases. I love that feedback!
Also, follow me and be notified when new products are uploaded. New products are always discounted for the first 24 hours they are posted. Followers get the best deals!
Please feel free to contact me with any questions through my store or on my blog at www.CarrberryCreations.com

https://www.teacherspayteachers.com/Product/ORF-Progress-Monitoring-Graph-912903
Join The Best of Teacher Entrepreneurs Marketing Cooperative at
https://thebestofteacherentrepreneursmarketingcooperative.net/the-best-of-teacher-entrepreneurs-marketing-cooperative-one-year-membership/
and get THOUSANDS OF PAGE VIEWS for your TpT products!

Victoria Leon's TpT Store
Go to http://www.pinterest.com/TheBestofTPT/ for even more free products!