by Julie Faulkner
7th – 12th Grade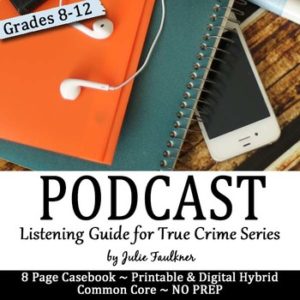 This student casebook is designed to be a set of worksheets your students can use during their listening experience of any popular true crime podcast series of your choice. The pages provided are designed to work as a whole while students "investigate" along with the podcast's narrator; however, you could just pull out a few at a time. Students will have the opportunity to collect evidence, interview/question suspects, chart the timeline, and make their own hypothesis of the outcome. Podcasts provide a unique way to build critical thinking skills while adhering to state standards, and the fact that these worksheets are designed specifically for the popular true-crime vein of the podcast genre means that you can choose any one you want, and with no prep for you, you and your students can join the movement quickly and easily – without sacrificing any amount of critical thinking, problem solving, or fun!
Plus, this set of recording sheets also comes in a digital hybrid, ready-to-complete Google Drive format! They'll be ready in just a moment's notice for you to conduct an amazingly in-depth lesson of your preferred true crime series podcast such as Serial or Up and Vanished! The images, questions, and boxes are fixed in Google Slides, but they are made ready for students to type their answers right on the page!
Use them in English class, criminal justice, technology, journalism, history, etc. Your students will love that they are beautifully designed and allow them to be part of the story. You will love that your students are engaged successfully in discussing this new genre of texts. Your admin will love that students are thinking critically and meeting standards.
Take a look at the other worksheets for analyzing text in my catalog:
Printable Poetry Worksheets
Digital Poetry Worksheets
Printable Speech Worksheets
Digital Speech Worksheets
Printable Movie Worksheets
Digital Movie Worksheets
Printable Literature Worksheets
Digital Literature Worksheets
Digital Podcasts Worksheets
Printable Podcasts Worksheets
Be the first to know about my new discounts, freebies and product launches. Look for the green star next to my store logo and click it to FOLLOW ME. Voila! You will now receive email updates about my store.
For more ideas and inspiration:
Faulkner's Fast Five Blog
Instagram
Pinterest
Julie's Classroom Stories on Facebook
Teaching Tidbits Newsletter with Email-Only Freebies
Original Cover Photography © Julie Faulkner
https://www.teacherspayteachers.com/Product/Podcast-Listening-Guide-for-Any-True-Crime-Series-Student-Casebook-3702289