by Kathleen Applebee
4th – 9th Grade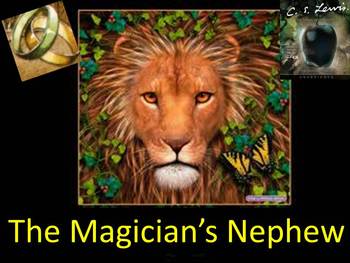 Save time and paper with this 165 slide PowerPoint and 25 .PDF reproducibles in a ZIP file, everything you need for a novel study of The Magician's Nephew by C. S. Lewis is included {review questions, writing prompts (multiple prompts for each chapter to make choices and differentiating instruction easier), vocabulary work (including illustrated dictionary, parts of speech, affixes; roots and sorts), graphic organizers, projects, fact and opinion and more.}
Graphics help students visualize. Links to free online review games are included. The preview consists of materials for chapter 1. Answers for most of the .PDFs are contained in the Power Point.
Check out other novel studies
The Outsiders
Gregor the Overlander by Suzanne Collins
Bud, Not Buddy by Christopher Paul Curtis
The Lion, the Witch and the Wardrobe by C. S. Lewis
George Washington Carver $1
Skits about Bible birds free
Curtain Call Caper Freebie novel study
Disappearing Dog Dilemma Freebie novel study
Bungled Bike Burglaries Freebie novel study
Free Christian drama resources at Fools for Christ
Free interactive Bible games

https://www.teacherspayteachers.com/Product/Power-Point-C-S-Lewis-Magicians-Nephew-novel-study-262624
Join The Best of Teacher Entrepreneurs Marketing Cooperative at
http://www.thebestofteacherentrepreneursmarketingcooperative.com/2014/01/the-best-of-teacher-entrepreneurs.html
and get THOUSANDS OF PAGE VIEWS for your TpT products!

Victoria Leon's TpT Store
Go to http://www.pinterest.com/TheBestofTPT/ for even more free products!