by Teachings By Muhammad Yasir
4th Grade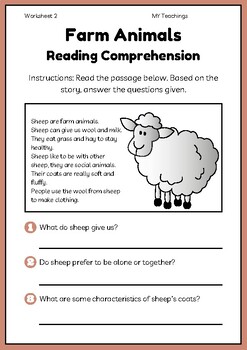 This reading comprehension worksheet bundle is perfect for grade 4 students who are looking to improve their reading skills. The bundle includes five worksheets, each with a different comprehension passage and three questions to test students' understanding of the text.
---
The passages are carefully selected to cater to grade 4 students' reading abilities and interests. They cover a range of topics, from animals and nature to sports and hobbies. The questions focus on different reading comprehension skills, such as finding the main idea, making inferences, and identifying details.
---
The worksheets are designed to be engaging and visually appealing to keep students motivated and interested. They can be used as an in-class activity, homework assignment, or assessment tool.
---
By completing these worksheets, students will develop their critical thinking, reading, and comprehension skills, which are essential for academic success. With this bundle, you can provide your grade 4 students with the tools they need to become confident readers and learners.
Don't miss out on this opportunity to enhance your students' reading abilities with this comprehensive and fun worksheet bundle!
https://www.teacherspayteachers.com/Product/Reading-Comprehension-Worksheets-for-Grade-4-9516296
Join The Best of Teacher Entrepreneurs Marketing Cooperative at
https://thebestofteacherentrepreneursmarketingcooperative.net/the-best-of-teacher-entrepreneurs-marketing-cooperative-one-year-membership/
and get THOUSANDS OF PAGE VIEWS for your TpT products!

Go to http://www.pinterest.com/TheBestofTPT/ for even more free products!