by Fairies and Lesson Plans
1st – 2nd Grade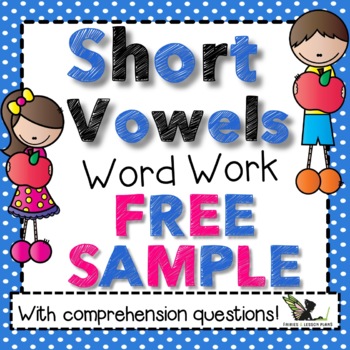 If you would like to try a small sample of my Short Vowels Word Work, please go ahead and download this free file!
You can purchase the bundle HERE.
Need it digitally?
*ALSO AVAILABLE AS A DIGITAL RESOURCE (GOOGLE SLIDES AND POWERPOINT).
—————————————————————————————————-
Need OTHER TYPES of Word Work?
*FIRST GRADE WORD WORK ACTIVITIES WITH DIGITAL OPTION
*FIRST GRADE WORD WORK – SMALL GROUPS, LITERACY CENTERS, DATA COLLECTION
*FIRST GRADE WORD WORK ASSESSMENTS WITH DIGITAL OPTION
—————————————————————————————————-
The complete product offers 20 weeks of Word Work with focus on short vowel word families. It is made with only a hint of clip art. You can use the activities to teach the words in your small group lessons, in your literacy centers, and as homework. Each lesson's materials are labeled with numbers and word family names for easy identification.
If you would rather not print the "in color" version, just use the black and white pages.
One of the features that makes this product unique are the short stories with comprehension questions! They provide reading practice of the target words in context plus a comprehension piece. The words are not taught only in isolation! They are practiced in context as well!
This product requires students to think deeper and work harder.
Each one of the 5 packets come with
• a poster for each word family
• a sorting mat
• 40 sorting cards
• 4 word box worksheets (matching the sorting cards)
• 4 short stories with multiple choice comprehension questions
• 4 fill in the blanks activities
Besides sorting, use your cards and posters to:
• play BINGO,
• put words in ABC order,
• have partners quiz each other,
• send home for extra reading practice
Word families in the Short a Packet
• -an,
• -ab,
• -at,
• -ag
• -am,
• -ad,
• -ack,
• -ap
Word families in the Short e Packet
• -ed,
• -ell,
• -et,
• -est,
• -eck
Word families in the Short i Packet
• -in,
• -ill,
• -it,
• -ing,
• -ip,
• -ick
Word families in the Short o Packet
• -ot,
• -op,
• -ob,
• -ock
Word families in the Short u Packet
• -um,
• -uck,
• -unk,
• -ug,
• -un,
• -ump
Happy Word Working!
You might also like:
Word Work Activities for the Whole Year!
**************************************************************************
Do you need Math homework? Check out my products in that category:
**************************************************************************
Follow me on Pinterest
Check out my BLOG here

https://www.teacherspayteachers.com/Product/Short-Vowels-Word-Work-Free-Sample-1583009
Join The Best of Teacher Entrepreneurs Marketing Cooperative at
https://thebestofteacherentrepreneursmarketingcooperative.net/the-best-of-teacher-entrepreneurs-marketing-cooperative-one-year-membership/
and get THOUSANDS OF PAGE VIEWS for your TpT products!

Victoria Leon's TpT Store
Go to http://www.pinterest.com/TheBestofTPT/ for even more free products!