by Paula's Preschool and Kindergarten
Kindergarten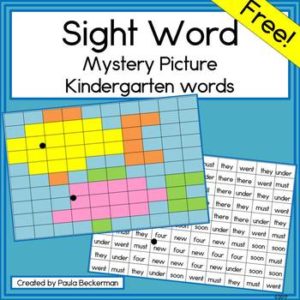 Make sight word practice fun with my sight word mystery pictures! This free resource will have your students eagerly reading primer level words and coloring by code to discover the mystery picture. Words practiced are: under, they, went, must, new, four, soon, he, ride, will & there. There is no prep. required, simply print and go – perfect for morning work, homework, early finishers and more!
For more sight word fun, you may also like:
Sight Word Mystery Pictures: Ocean Theme,
Sight Word Mystery Pictures: Transportation,
Sight Word Mystery Pictures: Rainforest,
Sight Word Mystery Pictures: Dinosaur Theme,
Bears On The Sea Ice Sight Word Game,
Class Books for Every Letter of the Alphabet, Using every PP word,
Emergent Readers: Color Words,
Community Helpers Color by Sight Words (pre-primer),
This Little Piggy Literacy Activities,
Seasons Reading Game & Color by Sight Words (Primer words),
and
Three Little Pigs Sight Words Game.
For more ocean themed learning, please see:
Ocean Hundreds Charts,
Ocean Hundreds charts with addition, subtraction and multiplication,
Ocean Tangrams,
Ocean Sentence Picture Match ,
Ocean Theme Bundle,
Under the Sea Patterns,
Under The Sea: Time,
Under The Sea: Money,
The Biggest Thing in the Ocean?,
Beach Fun Sentence Picture Match,
Beach Logic Puzzles,
In A Tide Pool,
Tide Pool Sentence Picture Match,
and
Sea Turtles 2 Differentiated Booklets.
Thank you for visiting Paula's Preschool and Kindergarten. All new resources are 50% off for the first 48 hours. To be notified when new activities become available, and of upcoming sales, please click on the green star below my store name and follow me. Followers and feedback are greatly appreciated!
Have a great day!
♥ Paula
Terms of Use
Thank you for your purchase! By purchasing this resource, you are agreeing that the contents are the property of Paula Beckerman and licensed to you only for classroom/personal use as a single user. I retain the copyright, and reserve all rights to this product.
The original purchaser may:
-make copies for the purchaser's classroom, including homeschooling, or tutor sessions,
-make one copy for backup purposes, but not with intent to redistribute,
-direct other interested persons to my store: https://www.teacherspayteachers.com/Store/Paulas-Preschool-And-Kindergarten
– purchase additional licenses for others at a discount. To do so, go to your "My Purchases" page on TpT, locate the resource, and choose "Buy Additional License".
You may not:
-claim this work as your own, alter the files in any way, or remove/attempt to remove the copyright/watermarks,
-attempt to copy or remove any included graphics, as the original clip artists retain all rights to their original works.
-share this product (in part or in its entirety) with others,
-repackage and/or sell or giveaway this product (in part or in its entirety) to others,
-offer or share this product (in part or in its entirety) anywhere on the internet as a download or copy including, but not limited to, personal sites, school sites, Google Doc links on blogs or sites, internet sharing groups, news lists, or shared databases,
-make copies of purchased items to share with others.
Copying any part of this product and placing it on the Internet in any form (even a personal/classroom website) is strictly forbidden and is a violation of the Digital Millennium Copyright Act (DMCA).
https://www.teacherspayteachers.com/Product/Sight-Word-Mystery-Picture-FREE-3063061