by Smart Kinder Kids
Pre-Kindergarten – 4th Grade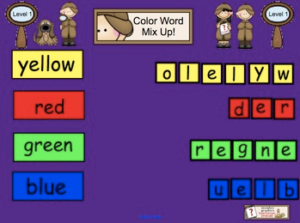 A fun and engaging way for students to learn their color words on the Smart Board! This activity can be used Whole Group, Small Group or individually and is a GREAT addition to your Daily 5 Word Work options. My kids LOVE building these words! Differentiation is key to meeting our students' varied needs and this activity will allow for your children to work at their individual level.
Level 1 can be used for pre-K and K and first grade students (or struggling older students) to sequence letters as an introduction to color words where students build the color words matching letter for letter against the word on the left.
Level 2 allows for higher order thinking while still supporting the learner with color coded clues.
Level 3 requires the student to use background knowledge, prediction, trial and error, phonemic awareness skills, etc. to build the words correctly using all of the letters.
I hope your kids enjoy this as much as mine do! For more smartboard ideas check out my blog @ http://smartkinderkids.blogspot.com/
Leigh Majer
https://www.teacherspayteachers.com/Product/Smartboard-Color-Word-Mix-Up-362229