by Dana Designs
3rd – 6th Grade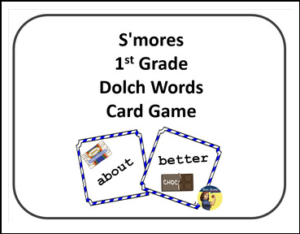 FREEBIE ALERT!
If you're sick of going through boring flashcards, this is a great resource that is quick to play and easy to learn. Students can practice Dolch sight words within the context of a card game. Because each card is labeled with the grade level, it is easy to switch cards from different levels in and out. In this file, you get a page with all the directions (as listed below) and four pages of playing cards that print 12 per page.
To Win: Be the player with the most s'mores at the end of the game.
To Play:
Shuffle cards and place in a single pile face down.
On each player's turn, choose the top card and read the word. Keep the card.
Continue play until all cards are picked up.
All players see how many complete s'mores they have made (a complete s'more is one of each card: chocolate, marshmallow, graham cracker, and fire).
The player with the highest number of complete s'mores wins.
In the event of a tie, the player with the highest number of words that begin with the letter t is the winner.
Other Ways to Play:
*The first card turned over is the wild card. Whatever type of card that is will be what players try to get the most of to win the game. (For example, if the first card is a marshmallow, then the player with the most marshmallows at the end of the deck wins).
*At the end of the deck, count the number of pairs of matching cards. Each pair counts as one point.
*Shuffle the deck and deal cards out (face down to each player). On each player's turn, they flip their top card onto the pile and say the word. If the current word is the same card type as the one below it, the first person to say the word and slap the pile gets to take the cards. Continue play until one player has the entire deck. (Similar to playing Slap Jack).
Download more versions of this game to mix and match cards!
S'More Dolch Word Bundle (Grades 1-3)
S'More R-Controlled Vowel Words