by Kathy Babineau
Pre-Kindergarten – 4th Grade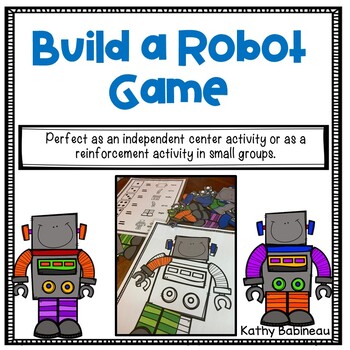 Play this fun speech therapy game and Build Unique Robots! This easy and versatile Build a Robot game is a motivator and attention holder in small group lessons. Kids have fun building their own unique robot creatures as they take turns rolling the dice and assembling their robots in this game activity. The handy chart tells players what robot parts to place on their mats. The first player to complete a robot wins. This game can be played independently by students or can be used during a small group lesson or in a speech therapy group to keep kids on task and motivated.

Kids like to build their own robots and then describe how the robots look once completed. The game often sparks imaginative minds that want to chat about what their robots are like or what powers their robots might have.
To use this, print out multiple copies of the black/white completed robot and laminate. Then print out single pages of the colored robot parts pages and the page with the dice chart. Cut apart the robot pieces and laminate. Once prepared this game can be used over and over.
To play the game you will need a die that goes up to the number 6. and a black/white robot template. Place the colored robot pieces in the center of the table. Players take turns rolling the die. Using the dice chart, the players will select a robot piece based on what they roll. For example, if you roll a 3, you get a belly. Players place the colored pieces on their black/white robot template. The first player to complete his/her robot wins.
I like to use this build a robot game in small group speech/language therapy activities. After each student answers a question, or says his/her target sound correctly, he/she may roll the dice. The game can be used with any small group lesson. This set can also be used in independent center activities.

Related Products
☀ Build a Speech Therapy Game Bundle
☀ St. Patrick's Day Build a Leprechaun Game

I hope you enjoy this game with your students. Leave feedback please to let me know what you think.

https://www.teacherspayteachers.com/Product/Speech-Therapy-Game-Build-a-Robot-Game-5440251
Join The Best of Teacher Entrepreneurs Marketing Cooperative at
https://thebestofteacherentrepreneursmarketingcooperative.net/the-best-of-teacher-entrepreneurs-marketing-cooperative-one-year-membership/
and get THOUSANDS OF PAGE VIEWS for your TpT products!

Go to http://www.pinterest.com/TheBestofTPT/ for even more free products!