by The SLT Scrapbook
Pre-Kindergarten – 5th Grade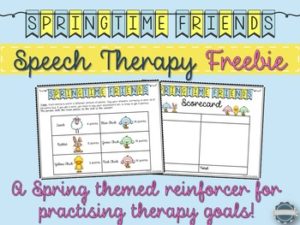 Spring themed open-ended game for Speech therapy! Get lots of practice of speech therapy targets with this fun freebie!
Contents: This freebie contains 1 spring themed open ended game that can be used as a reinforcer to help students practise their speech therapy targets.
1 x points board
1 x score board
1 x page of spring animals
Preparation: Simply print out the pages- create multiple copies of the animals page if desired, cut the animal page into individual squares. Laminate for durability.
Instructions: Put the picture cards in a box or inside Easter eggs/Easter basket etc. Have students choose a picture, they then have to say their speech sounds/name an item from a category (whatever suits your goal!) the same number of times to earn the points. E.g. to earn 5 points they have to say their words 5 times, or name 5 items from a category, etc. The person with the most points at the end of the game is the winner!
https://www.teacherspayteachers.com/Product/Spring-Themed-Open-Ended-Game-for-Speech-Therapy-2461021