by Disha Digital School
Pre-Kindergarten – 2nd Grade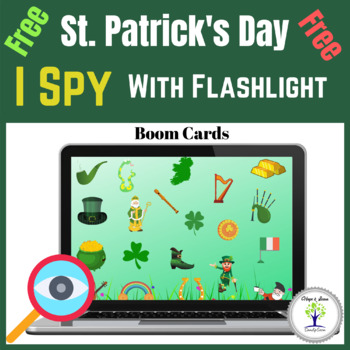 St. Patrick's Day I SPY with Flashlight Interactive Boom Cards are a fantastic tool for enhancing executive functioning and can have a vast range of benefits, such as: Enhancing problem solving capabilities Promoting focus, concentration and attention Enhancing memory Promoting fine motor control Promoting visual motor skills Boosting patience and persistence.
Want to see this deck in action? Click on the link below to play!
New to BOOM CARDS? Here's what you need to know….
Boom Cards live in the cloud. They can't be printed. They play on most modern browsers, Android, iPads, iPhones, and Kindle Fires. You open a Boom Learning account to play them (to protect the children). Create Fast Play pins to assign your Boom Cards to students.
Boom Learning also has premium accounts. Premium accounts offer advanced assignment tools, individual and whole class performance tracking, and more. If you are a new Boom Learning customer, when you redeem your Boom Cards purchase you get 90-day free trial of a premium account. When your trial ends, you can renew or move to a free account. You may upgrade, downgrade or cancel at any time. Free accounts use purchased Boom Cards with Fast Play pins.
PLEASE NOTE: When you purchase this deck, you will be given a LINK to download your BOOM CARD purchase. You will NOT be given a set of cards in pdf format.
Follow Me-
Facebook- https://www.facebook.com/sandip.goon.5
Instagram- https://www.instagram.com/disha.digital.school/
Pinterest- https://in.pinterest.com/goon2739/
If you like this product, here are more Boom Cards resource
Spell the Fruit / Fruits Name Drag and Drop Activity / Boom Cards
Similar Items Match Boom cards
Animals and Their Homes- 2 Level Matching- Boom Cards- With Real Images
THINGS THAT GO TOGETHER BOOM CARDS FOR SPECIAL EDUCATION
Near or Far Concept Development Activity- Boom Cards for Distance Learning
Object Identification for Special Education Boom Cards
Body Parts Matching: Boom Cards for Distance Learning
Occupations and Vehicle Matching With Gif and Sound Affects। Boom Cards
Identifying Emotions and Feelings with Real Pictures। Boom Cards
I Spy With Flashlight Boom Cards। Distance Learning
Animals and Their Babies 2 Level Matching Activity Boom Cards with Real Images
Insect Bug Match and Vocabulary Game 2 level Boom Cards Activity
Matching Opposites / Antonyms Boom Cards
St. Patrick's Day Yes No Questions Boom Cards
St. Patrick's Day Matching Activity Boom Cards
St.Patrick's Day Which One is Different Boom Cards Activity
St. Patrick's Day Vocabulary Game- Boom Cards
How to get TPT credit to use on future purchases:
Please go to your My Purchases page (you may need to login). Beside each purchase you will see a Provide Feedback button. Simply click it and you will be taken to a page where you can give a quick rating and leave a short comment for the product. Each time you give feedback, TPT gives you feedback credits that you use to lower the cost of your future purchases. I value your feedback greatly as it helps me determine which products are most valuable for your classroom so I can create more for you.

https://www.teacherspayteachers.com/Product/St-Patricks-Day-I-Spy-with-Flashlight-Boom-Cards-6618153
Join The Best of Teacher Entrepreneurs Marketing Cooperative at
https://thebestofteacherentrepreneursmarketingcooperative.net/the-best-of-teacher-entrepreneurs-marketing-cooperative-one-year-membership/
and get THOUSANDS OF PAGE VIEWS for your TpT products!

Victoria Leon's TpT Store
Go to http://www.pinterest.com/TheBestofTPT/ for even more free products!