by LessonSpeak
11th – 12th Grade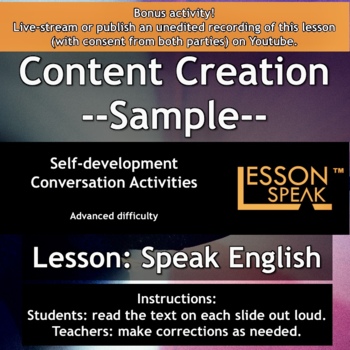 This 11-slide lesson will get your intermediate/advanced ESL conversational teenage/adult students to talk more! Content Creation is an interesting popular topic in the globalised world. With the included role play, this topic will simulate the environment that one will encounter when trying to create content! This topic helps ELL with vocabulary development, oral communication, and most importantly, it will give your students more speaking practice.
Lesson Length: 1 hour
Contains:
– 11 non-prep JPEG images & Google Slides link
– Editable PPT
………………………………………………………………………………………………………………………………………………
Click here to check out the LessonSpeak blog
………………………………………………………………………………………………………………………………………………
Follow LessonSpeak on social media!
Instagram: Click here
Facebook: Click here
Pinterest: Click here
Twitter: Click here
………………………………………………………………………………………………………………………………………………
Do a quick survey and get a free topic! Click here
………………………………………………………………………………………………………………………………………………
Audience:
1) Coaches/Teachers:
Save time
Demonstrate authority & quality
Provide structured conversational lessons
2) Adult ESL Learners:
Learn to speak confidently
Discuss business in English
Encounter new perspectives
………………………………………………………………………………………………………………………………………………
The easiest conversational lesson you'll ever give! Simply follow these steps:
1.) Open the content
2.) Join video chat with student(s) & share screen
3.) Ask your student(s) to read directly off the slides & correct them where needed
4.) Watch the clock!
The LessonSpeak story: "I created LessonSpeak™ to help pass on my success to others who face the struggles of teaching on their own. When I stopped teaching as an English tutor at iTutorgroup, I struggled in transitioning from being an employee to being a freelancer. My biggest struggles at first were sourcing quality curriculum, finding clients, and charging enough to actually make a living. These obstacles are now a thing of the past."
– Johnny Ilca (LessonSpeak founder)
………………………………………………………………………………………………………………………………………………
PLEASE: My lessons are proof-read by me. If you find a mistake or feel that there is room for improvements, please let me know in the "Ask a Question" section (rather than rate the entire document badly), I promise to fix it immediately and you'll have my deepest gratitude.
More LessonSpeak lessons:
*****************************************************************************
IMPORTANT
Every new product I post in my shop comes out at 20% off for the first 4 days!
To find out and grab it while it is still discounted, click the green star ★ on the top right-hand corner of any page and become a follower, or Click here
• You will also receive customized email updates about this store.
*****************************************************************************
HOW TO GET TPT CREDIT FOR FUTURE PURCHASES: If you enjoy this product, please leave positive feedback to gain credits for future purchases!
Go to your "My Purchases" page. Next to each purchase, you'll see: "Provide Feedback". Click it and it will take you to a page where you can give leave a short comment about the product.
Each time you give feedback, TPT gives you feedback credits that you may use for future purchases. Please take the time – feedback is so important!
*******************************************************************************
IF YOU ARE PLANNING ON BUYING THIS PRODUCT, PLEASE READ THIS:
The products in this shop are all produced by me (Johnny Ilca), an entrepreneur who happens to teach. Inspiration for these products came from my own personal struggles as a freelance online English teacher. I used to work at iTutorGroup and when I left the company, I struggled in finding quality material to continue teaching in that way. I paid freelancers on Upwork to make some for me but they were of poor quality and had wayyyyy too many mistakes. That is when I took it upon myself to create the best resources not just for myself but for all online English teachers! I am my very first and most loyal customer so you know that these materials have been vetted. However, I am only one person and everyone makes mistakes…
UPDATE: As of March 19th, all future lessons will be in an Google Slides format! Editable PPT files are included only in bundles as bonus products.
Get a free product if you send me the errors to correct!
I hope this product delivers everything you hoped for and more.
******************************************************************************************
For problems and questions, suggestions or idea sharing, I would LOVE to hear from you – contact me at: main@lessonspeak.com

Join the community!
Facebook Group: Click here

https://www.teacherspayteachers.com/Product/Talk-About-Content-Creation-Powerpoint-and-Google-Slides-ESL-for-Adults-7272635?st=d65bac58268cc40ea7f4d8b8e0229a84
Join The Best of Teacher Entrepreneurs Marketing Cooperative at
https://thebestofteacherentrepreneursmarketingcooperative.net/the-best-of-teacher-entrepreneurs-marketing-cooperative-one-year-membership/
and get THOUSANDS OF PAGE VIEWS for your TpT products!

Go to http://www.pinterest.com/TheBestofTPT/ for even more free products!