by HappyEdugator
4th – 7th Grade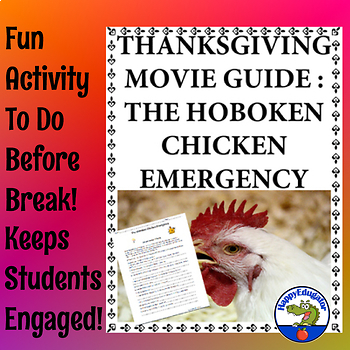 Watch the classic Thanksgiving movie based on the book the Hoboken Chicken Emergency by Daniel Pinkwater. Your students will probably recognize Peter Billingsley, the little boy from the movie A Christmas Story! Use this viewer's guide for before the movie discussion questions, during the movie comprehension questions, and a writing activity after viewing. A fun Thanksgiving activity to do on the week or day before the holiday. Key included.
UPDATE: This resource has become outdated now that the movie is no longer readily available. (There are still some VHS copies available on Ebay and Amazon, but the movie is no longer available online or on DVD.) I was going to deactivate it, but in case someone has an old copy of the movie and wants to use it, I am going to make it a free resource.
Thank you!
Follow me HERE to get notified of updates, sales, free resources, and new products. All new products are 50% off for 48 hours.
© Deborah Hayes aka HappyEdugator. For classroom and homeschool use. Your purchase buys one license. You may purchase extra licenses at a discount.

https://www.teacherspayteachers.com/Product/Thanksgiving-Movie-Guide-The-Hoboken-Chicken-Emergency-168636
Join The Best of Teacher Entrepreneurs Marketing Cooperative at
https://thebestofteacherentrepreneursmarketingcooperative.net/the-best-of-teacher-entrepreneurs-marketing-cooperative-one-year-membership/
and get THOUSANDS OF PAGE VIEWS for your TpT products!

Go to http://www.pinterest.com/TheBestofTPT/ for even more free products!